Netflix's Barack Obama biopic star Devon Terrell said role helped him accept his identity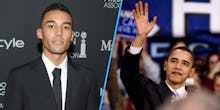 President Barack Obama, set to leave the Oval Office in about two months, is known as the United States' first black president. To some, however, it is Obama's mixed-race identity that resonates most.
This is the case for Devon Terrell, a 24-year-old Australian actor, who is portraying Obama in the Netflix biopic Barry. The film follows the journey of a young Obama — the son of a white mother and a Kenyan father — who is searching for his place in America as a Columbia University student in New York City at a time when racial tensions were intensifying in the early '80s.
In an interview with Mashable, Terrell said that while preparing for his role, playing young Obama has helped him accept his mixed-race identity as someone of Anglo-Indian and African-American descent in a country where he still feels like an outsider. Like Obama, who moved to Indonesia with his mother at a young age, Terrell moved to Australia when he was 5. 
"I was the only one of my kind, so I knew what it felt like to be an outsider and to try to fit into different circles," Terrell told Mashable. "I'm still a very young man as well, so I'm asking the same questions as Barack."
Terrell, who learned how to mimic Obama's distinctive voice and write left-handed for the film, said he hopes the film honors the president's legacy in a time when many feel a sense of uncertainty under Donald Trump's America.
"The election has totally taken over conversations around the world right now, so I hopefully this can start other conversations that bring hope to the world," Terrell said. "He's broken down all these barriers that people had on themselves." 
According to Terrell, however, the most important lesson he's learned from playing young Obama for the film is to realize, no matter who you are or where you come from, you still belong.
"You don't have to fit in anywhere," Terrell added. "The truth is you belong. Wherever you are."
Barry will be available on Netflix on Dec. 16. You can watch the trailer for the biopic below: