Winter Storm Caly 2016: Latest news, snow predictions and when the storm will pass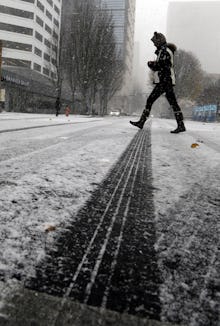 Winter Storm Caly is expected to complete its cross-country journey Monday afternoon, dumping its final round of snow on the Northeast, according to the Weather Channel. But don't get your hopes up for a quick thaw — meteorologists are saying another winter storm may soon follow.
Caly has left one person dead, hundreds of car crashes and over a thousand canceled flights in its wake
Snow along the Plains and Great Lakes over the weekend caused 882 car crashes in Minnesota, more than 1,600 canceled flights across the Midwest and a plane skidding off an icy runway in Detroit, according to NBC News. Nobody was killed in the Minnesota car crashes, but 92 people were injured, Minneapolis news station KARE 11 reported.
One person was killed in a car crash in Oregon Thursday morning, according to the Corvallis Gazette-Times. Benton County Sheriff's Office told reporters the crash was due to dangerous driving conditions caused by winter storm Caly.
Which states will get the heaviest snow?
Detroit reportedly received 6.5 inches of snow Sunday evening and anticipated another half a foot overnight. In New York City, snowfall varied between 1 to 3 inches Sunday evening. By Monday morning, the snow had melted and was replaced by rain, which is expected to taper off by mid-afternoon. Bergen County, New Jersey, reported temperatures 10 to 15 degrees below average Sunday with icy conditions. In southern Maine, most schools are closed and the entire state is expected to have "plowable amounts of snow" by Monday evening, when the storm is expected to end.
Winter weather advisories have been issued by the National Weather Service throughout the Northern U.S., with the heaviest weather expected in parts of New England through mid-afternoon on Monday. Caly could drop up to a foot of snow in southern Maine, Bangor Daily News reported.
When is the next winter storm?
Another cross-country storm is closely following winter storm Caly and is expected to bring snow, strong winds, and some ice across 12 states in the northern United States starting as early as Tuesday, the Weather Channel reported. Heavy snow is expected in the northern Sierra Nevada on Tuesday, with 1-2 feet of snow possible. As the storm moves farther inland, the moisture from that system, combined with cold air in the north and high pressure in the east, will make "conditions ripe for the potential of snow, sleet and freezing rain in a large area" across the northern U.S., the Weather Channel reported.
The second storm is expected to bring snow to Oregon starting Wednesday, moving through the Midwest on Thursday and into Friday. By Saturday, the storm will hit the northeast, plunging temperatures across the northern U.S., from single digits in South Dakota to the high teens in New York.
Since the brunt of the storm is expected Thursday and subject to change, the Weather Channel is remaining cautious in its estimates: "Since we are still several days away, the forecast remains uncertain," the Weather Channel said.