Donald Trump on Intelligence Briefings: I don't need them every day because I'm "smart"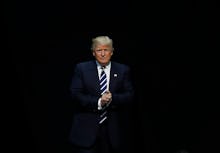 In an interview with Fox News Sunday host Chris Wallace, Donald Trump said he doesn't need daily intelligence briefings because he's "like, a smart person," adding, "I don't have to be told the same thing in the same words every single day for the next eight years, could be."
The discussion, which was transcribed in full by the Washington Post, opened with Wallace asking about Trump's skepticism toward the intelligence community, saying, "You are getting the Presidential Daily Brief only once a week. Is there some skepticism?"
Trump replied: "First of all, these are very good people that are giving me the briefings. And I say, If something should change from this point, immediately call me. I'm available on one minute's notice."
The daily brief is a top secret document prepared by a team working out of the Office of the Director of National Intelligence, the New York Times notes. It is often prepared on a secure tablet computer that allows the president to delve more deeply into background and specifics than the traditional paper format offered, according to the Times. It provides a summary of important developments and insights from every U.S. intelligence agency, as well as updates on covert programs overseas — information that is among the most closely guarded secrets in Washington.
The brief was first prepared by the CIA and delivered to John F. Kennedy in 1961. The agency was ordered "under no circumstances" to share the information with Kennedy's vice president, Lyndon B. Johnson. In contrast, Vice President-elect Mike Pence has received intelligence briefings nearly every day and Trump even wants his son-in-law Jared Kushner to have access to the top secret documents.
Prior to taking office in 2009, President Barack Obama often scheduled "deep dives" on key subjects. Lt. General Michael Hayden, who was CIA director when Obama was elected, noted to the Washington Post that Obama was "an avid consumer of intelligence" during his transition period.
Still, during Obama's years in office, Trump was critical of the president for allegedly skipping intelligence briefings.
Trump's claim, which hinges on the distinction between simply reading the president's daily brief and actually holding daily intelligence meetings, was roundly debunked in 2012, long before Trump latched onto it. But even if the accusations that Obama skipped 58% of his daily briefs had any basis, he would still be miles ahead of Trump, who reportedly has only received about 14% of his daily briefings since the election.
Dec. 12, 2016 1:16 p.m.: This story has been updated.