What's leaving Netflix in December 2016? Here's the top 6 titles disappearing this month.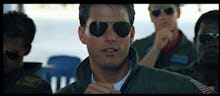 You know the drill: Another month is coming to a close, which means Netflix will be bringing new shows and movies to its slate, while saying goodbye to a few titles. This December's no different, with Netflix's catalogue bidding adieu to a few cult classics (at least Fuller House is coming back for season two!). 
But you've still got a couple of days before they're gone. Therefore, if you have a spare 10 hours or so, here are six titles — along with the corresponding date they're leaving the streaming service — any binge-watching buff should check out, post haste. 
American Beauty (Dec. 1)
Nowadays, Kevin Spacey is best known for his role as President Frank Underwood (is he more terrifying than Donald Trump? Hard to tell!) in Netflix's House of Cards, but Spacey's finest performance might've been in American Beauty. As a family man going through a mid-life crisis, beginning to fantasize about his teenage daughter's friend, it was an indicting reflection of the American white upper-middle class that still feels poignant in 2016. 
Event Horizon (Dec. 1)
Event Horizon might not be a critically praised sci-fi film, but it is batshit crazy in the most entertaining way. It lies in the film's conceit, in which a spaceship's crew suddenly vanishes and the rescue team soon discovers that the crew had opened a portal to hell. In doing so, the crew went mad — as does Sam Neill's character on the rescue team — and the imagery was so graphic most of it had to be cut from the film. If you're not afraid of gore, or Sam Neill dissecting people, it's a fun ride through literal hell and back.
Top Gun (Dec. 1) 
You need to take the highway to the danger zone at least once with a viewing of Top Gun, the movie starring Tom Cruise that's chock full of cheesy puns, great music and a preposterous amount of testosterone. That testosterone is mostly led through Cruise and fellow pilot Iceman (Val Kilmer), and while Cruise's Maverick seemingly has a love interest in his female flight instructor Charlotte (Kelly McGillis), it's the clear sexual tension between Maverick and Iceman that steals the show. 
Holes (Dec. 5)
Before Shia LaBeouf became a sentient Internet meme, he was a budding child actor that began with a lead role in Disney Channel's Even Stevens. But another LaBeouf childhood staple is Holes, the movie adaptation of the Louis Sachar novel of the same name. LaBeouf plays the film's lead, Stanley Yelnats (yes, his last name is Stanley spelled backwards), who spends his time at a juvenile detention camp literally digging holes for the warden. Unfortunately, it also spawned an awful Holes-theme song that never should be revisited, but we'll leave the link below. 
The Da Vinci Code (Dec. 14) 
The first of three films starring Tom Hanks as Robert Langdon is perhaps the best in the Dan Brown-adapted franchise, which isn't saying much. Still, The Da Vinci Code is entertaining viewing if you don't take the premise as seriously as the movie does — hint: It's about the Illuminati. 
Spy Kids (Dec. 27) 
OK, so the Spy Kids sequels left a lot to be desired, but the original still holds up in all its campy glory. The children of the best spies in the world, tasked with saving their spy parents by becoming spies themselves? That's a fun premise for a kids movie, led by one of Hollywood's most entertaining action directors, Robert Rodriguez. It doesn't leave Netflix until Dec. 27, so it's a great movie to check out around Christmas.