Will more 'Gilmore Girls' episodes be coming to Netflix? Kelly Bishop responds.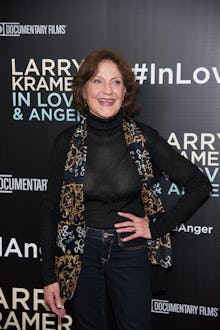 Judging by the way Gilmore Girls: A Year in the LIfe ended, there's plenty of cause for speculation about a sequel series.
[Editor's note: Spoilers ahead for the entirety of Gilmore Girls: A Year in the Life — including the final four words.]
The four-part Netflix miniseries was designed as a one-off follow-up to the original WB Gilmore Girls of the early 2000s. But considering the fan response to the fabled "last four words" — in which Rory Gilmore told her mother Lorelai that she's pregnant — it's not hard to imagine a need for further Gilmore.
Creator Amy Sherman-Palladino is remaining coy at the moment about the possibility, but some members of the cast (including, most vocally, Scott Patterson) have signaled their interest in more episodes. Now, thanks to a new interview with the Hollywood Reporter, we can add Gilmore matriarch Kelly Bishop to the list.
Bishop, who plays grandmother Emily Gilmore, told the publication when asked about doing more episodes that it all comes down to Sherman-Palladino.
"I have to tell you, I'll work with Amy anytime she wants to write something for me," Bishop said. "I always jump at the chance to work with her when I can. She's amazing."
In addition to Gilmore Girls, Bishop also appeared on Sherman-Palladino's short-lived ABC Family series Bunheads. The star of that show, Sutton Foster, appeared in a special guest role in A Year in the Life.
So Bishop's in, but only if the queen is involved. Looks like this is all going to come down to Sherman-Palladino — and Netflix, of course.