Apple is reportedly working on a high-end iPhone with a curved screen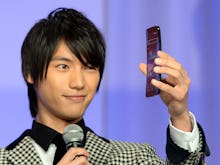 Apple is expected to roll out a redesigned iPhone in 2017, and big changes are coming. A new report from the Wall Street Journal said that Apple could ship its next flagship smartphone with a curved display akin to the Samsung Galaxy S7. 
According to the Journal, Apple's suppliers have been asked to submit prototype OLED screens that outperform the resolution of Samsung devices. The curved OLED screen is one of at least 10 models Apple is considering for the next iPhone, the Journal reports. There's no guarantee curved screens will be implemented into the next Apple device. If they are, these iPhones will likely be more expensive due to the higher cost of OLED production. 
Rumors of a curved iPhone with OLED technology have persisted over the past several months — some are even forecasting a bezel-less edge-to-edge screen. The main theory surrounding the overhauled device is the iPhone's approaching 10th anniversary, which Apple reportedly wants to commemorate with a major statement product. 
Embedding the new iPhone with an OLED screen is a good place to start. The display's layers are thinner, lighter and more flexible (hence the curve). OLED also manages to emit brighter images without using a backlight, thus significantly reducing the amount of battery spent on powering it. The technology will come at a price; the Journal says analysts estimate the OLED screen will cost an additional $50 to produce.