'Pokémon Go' Update: 20 best attackers and defenders after TDO and CP changes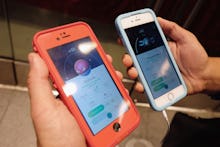 Pokémon Go experts at The Silph Road have crunched the numbers and delivered their analysis as to which Pokémon are the best attackers and defenders following the balance update and combat point changes on Nov. 21. And we have the information in one handy-dandy spreadsheet.
If you're ready to start crushing your enemies and hearing the lamentation of their Pokémon, these are the new gym battlers to care about.
Pokémon Go Update: Community provides quality Pokémon data
The new rankings list is based on data from The Silph Road community member Qmike, who for many months has been crunching combat numbers in Pokémon Go and sharing the results with the Silph Road community. Qmike's new data following the balance update has been translated into a Google spreadsheet that you may copy, examine and reorder as you please.
The data ranks Pokémon based on their total damage output or TDO, that is defined as the amount of damage the Pokémon can be expected to do against an average opponent in a gym battle before the Pokémon faints. TDO is just one methodology by which you can measure the relative strength of Pokémon, but Qmike argues that TDO takes more factors into account.
Pokémon Go Update: Judging Pokémon by total damage output
The new spreadsheet lists all the Pokémon in Pokémon Go from best to worst based on their TDO. It also tells you which moveset is optimal for which Pokémon, according to Qmike's analysis.
There are two different kinds of TDO listed on the spreadsheet. "TDO" represents a Pokémon's performance as an attacker, and "def_TDO" represents a Pokémon's performance as a defender.
Figuring out the new best gym attackers and defenders is as easy as re-ordering the list first by the TDO column (best attackers) and then by the def_TDO column (best defenders).
Pokémon Go Update: The new top 20 Pokémon gym defenders
If we remove Mewtwo's info from the list — as no one has caught Mewtwo yet — it's easier to read the top 20 results, and they're encouraging for Snorlax fans. Snorlax appears five times in the top 20 defenders list.
Lapras and Dragonite also appear several times on the top 20 defenders list, as does Vaporeon. These are all usual suspects for "best Pokemon" lists, but note that Rhydon also appears on the list four times.
Rhydon hasn't been a popular endgame Pokémon in Pokémon Go historically. We may be seeing the first, concrete result of the recent balance update.
Pokémon Go Update: The new top 20 Pokémon gym attackers
The top 20 attackers list is also mostly familiar faces. Dragonite, Snorlax, and Vaporeon dominate the top 10. Lapras and Gyarados are also acknowledged endgame Pokémon. 
Again, Rhydon appears a few times and is not a traditional endgame Pokémon, so we may be seeing another result of the balance update.
The good news is that veteran players likely have attack squads built around Snorlax, Dragonite, and Vaporeon as they've been powerful endgame Pokémon in Pokémon Go since early on. The bad news is that if these top 20 lists are correct, the balance update may not do much for gym diversity.
More Pokémon Go hacks, tips, and tricks from Mic
If you're already cross-checking the new top 20 lists against your Pokémon collections, you may also want to check out Mic's Pokémon Go guides. Here's everything you need to know about finding the long-awaited Pokémon, Ditto, creating new PokéStops and how to maximize your chances of catching Pokémon.