Pokémon Bank 'Sun and Moon' Release Date: Update coming in January 2017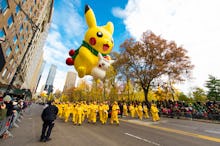 Pokémon Sun and Moon has already been out for over a week, but there's still no way to access to the Pokémon Bank in the new games. That means there's no way to bring your favorite Pokémon from past adventures along with you — at least for now.
Here's everything you need to know about this useful online tool before the company's planned update brings the Pokémon Bank for Sun and Moon online early next year.
Pokémon Sun and Moon: What is the Pokémon Bank?
The Pokémon Bank is a service that lets you transfer Pokémon from previous games over to your current adventure. It's already available for Pokémon Omega Ruby, Pokémon Alpha Sapphire, Pokémon X, and Pokémon Y. So once the update hits you'll be able to use pocket monsters you caught in earlier games while playing Sun and Moon.
Using the Pokémon Bank is easy. You simply transfer Pokémon from your 3DS to the service. Then log in online and send the ones you want to Pokémon Sun and Moon. Finally, boot up your current game and withdraw them from the bank.
The Pokémon Bank can store up to 3,000 Pokémon, which should be more than enough space. You'll also need to pay an annual fee $4.99 to use it, though the company typically offers a free trial.
Pokémon Bank Sun and Moon update release date
We still don't know exactly when the Pokémon Bank will go live for Pokémon Sun and Moon, but it's slated to arrive sometime in January 2017.
The Poké Transporter, an additional tool that lets you transfer Pokémon from older games, is also getting an update. Once it hits you'll be able to send creatures from the Virtual Console versions of Red, Blue and Yellow to the Pokémon Bank.
There are some limits to the Poké Transporter as well. Pokémon from the Virtual Console games can only be transferred to Sun and Moon. It's also impossible to send them back, so think carefully before confirming your transfer. 
For even more information on the Pokémon Bank and Poké Transporter check out the Pokémon Company's official website.
More Pokémon Sun and Moon tips and tricks from Mic
If you're serious about 'Pokémon Sun and Moon', you'll want to read up so you can be the very best. Check out our guides for picking the right starter, 'Pokémon Sun and Moon' cheats, using a damage calculator, how to catch the new legendary Pokémon, how to get Munchlax, how to customize your character, how to trade, how  to find all the evolution stones, how to use QR codes, all the Team Skull passwords, which Pokémon to catch early on and picking between 'Pokémon Sun and Pokémon Moon'.