Inclusive doll company Lammily wants to bring back wheelchairs for dolls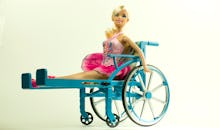 Back in 1997, Mattel introduced the world to Share a Smile Becky, the first Barbie in a wheelchair. 
Becky sat in a bright pink wheelchair wearing matching capris. Her knees bent. The original doll came with an aqua vest, miniskirt, shoes and headband that all matched.  
With the addition of Becky, as Mattel's own Maribeth Elmes told the New York Times at the time, "Barbie's world is more like the everyday world.''
In 1998, Becky was a school photographer, In 2000, Becky was a Paralympian at the Olympics in Sydney. But soon after those incarnations, Becky was discontinued due to design problems involving Becky being unable to fit inside Barbie's Dream House. 
Mattel hasn't released a Barbie in a wheelchair since. 
Although other doll companies have produced wheelchairs for their dolls, like American Girl and various doll companies that produce accessories for 18-inch dolls, those are usually parts of "Get well" sets as if someone's doll got hurt, not as if the doll actually uses a wheelchair. 
So now Lammily, the doll company that's risen to fame these past few years after creating a more accurately proportioned girl doll with stretch marks and acne, a boy doll with a tummy and a girl doll with sanitary pads, is trying to change the game yet again, launching a Kickstarter campaign on Wednesday to support its own wheelchairs for fashion dolls like Barbie.
According to Lammily's founder, Nickolay Lamm, he was drawn to look into the matter after he found out about Mattel's past with the chairs, and also the complete lack of wheelchairs for dolls of Barbie's size to this day. 
"The U.S. is known for treating people with disabilities with respect and equality, unlike some other countries which may not even care to make their sidewalks wheelchair accessible," Lamm said in an interview. "Being in the toy world, it was only natural for me to try to find the available wheelchairs for fashion dolls. I couldn't find anything. It didn't make sense to me that fashion dolls can have chairs, tables, cars, mansions — pretty much any accessory you can think of, but not a wheelchair." 
As for exactly why other doll companies haven't jumped at the chance to show dolls using wheelchairs, Lamm thinks it has to do with companies not realizing there's a demand, and not feeling confident enough to try to create products that may fill this void. 
"My guess is that toy manufacturers need to see that there's a big enough market for fashion doll wheelchairs before investing their resources into it," Lamm said. "Before Lammily was crowdfunded in March 2014, the basic assumption in the toy industry (from the very highest levels) is that there isn't a big enough market for 'realistic' fashion dolls. So, if this wheelchair crowdfunding campaign is successful, I feel it can show them that there is indeed a market, which can usher in a new era of toys." 
The wheelchair itself is bright blue and adjustable to fit dolls that are the size of Barbie dolls, Lammily dolls, Disney Princess Dolls, Monster High dolls and so on. 
And beyond concern for the chair's construction and versatility, which was apparently its downfall back in the late '90s, Lamm also went so far as to reach out to programs that work with young people in wheelchairs in order to see the impact the chairs would have, eventually landing on Ayita Wheelchair Dance, which provides dance classes for people who use wheelchairs. 
What Lamm saw (parts of which can be seen in the campaign's video) was stunning. 
"Watching the girls dancing in their wheelchairs was incredibly inspiring. And then, seeing how excited they were to play with fashion dolls using a toy wheelchair for the very first time, it gave me a new sense of how important this project is," Lamm said. 
The reason why Lamm remains so dedicated to inclusivity in the doll world is simple: Representation breeds respect. 
"To me, toys are like a diorama of life," Lamm said. "If a physically disabled child could see a fashion doll rolling around in her own wheelchair, if kids classified as mobility-disabled by the world could be exposed early on to this sort of positive imagery associated with ableism, then maybe we could shake some of the stigma that surrounds disability and being in a wheelchair." 
Lammily has a history of having incredibly successful Kickstarter campaigns, with its campaigns for its realistically proportioned girl and boy dolls making well over their set fundraising goals, so it's safe to say that Lammily's wheelchair will get full support as well. And that's good news especially because a portion of proceeds from all chairs sold will be donated not only to Ayita Wheelchair Dance but Big Dreams Children's Foundation, which provides prosthetics and adaptive equipment to orphaned children. 
Although Lammily is a relatively new company, it's leading the pack when it comes to diversity in the doll world — and it may actually already be having an effect on Barbie. In 2014, Lammily's crowdfunding for its realistic-looking girl doll made headlines worldwide and less than one year later, not so coincidentally, Barbie announced its curvy, tall and short Barbies. 
So maybe, just maybe, this wheelchair will give Barbie some ideas as well. 
You can watch the entire campaign video below: