Donald Trump will reportedly choose Elaine Chao for secretary of transportation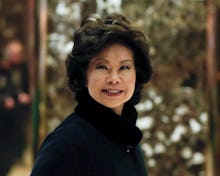 Donald Trump is expected to tap Elaine Chao, formerly secretary of labor, for transportation secretary Tuesday afternoon, a source close to the president-elect told the Associated Press. According to Politico, the announcement will likely come around 1 p.m. Eastern.
Chao, 63, was born in Taiwan and her family immigrated to the United States when she was 8 years old. After graduating Harvard Business School, she pursued a White House fellowship and was subsequently appointed to several government positions under Republican presidents: Deputy Administrator of the Maritime Administration and then Chairman of the Federal Maritime Commission under Ronald Reagan; Deputy Secretary of the Department of Transportation and then Peace Corps Director under George H.W. Bush.
Chao became the first Asian-American woman chosen for a presidential cabinet in 2001 when she was appointed the 24th U.S. Secretary of Labor, a position she held throughout all eight years of George W. Bush's administration. Because she has been a fixture in the last three GOP-headed governments, it feels fair to say that she is an establishment choice for self-proclaimed anti-establishment candidate Trump.
Chao is also married to Senate Majority Leader Mitch McConnell and currently resides in Kentucky.