'Rudolph the Red-Nosed Reindeer': When and where to watch the 1964 Christmas classic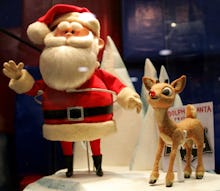 'Tis the season to cuddle up, laugh it up and tear up as your favorite holiday movies make their broadcast rounds. One flick you can't miss is the wholesome 1964 animated classic, Rudolph the Red-Nosed Reindeer. Even the straight-laced folks at Common Sense Media give it a thumbs up. They call it an "old-school, heartwarming classic for all ages." So unless you're a total Grinch, you'll love it.
You can watch Rudolph the Red-Nosed Reindeer tonight on CBS at 8 p.m. Eastern. It's also available to stream online with CBS All Access in select markets or on demand. The movie will air again on Dec. 10 at 8 p.m. Eastern. 
CBS has been broadcasting Larry Roemer's animated musical about the famous reindeer outcast since 1972. (Prior to that, the children's masterpiece aired on NBC for eight years.) Narrated by Burl Ives — who also does the voice of Sam the Snowman — the movie fully realizes the story outlined in the original Johnny Marks song by the same name. But it has an added villain: the Abominable Snow Monster. Plus, there's the Island of Misfit Toys, which has become a cultural reference all its own. Rudolph also includes songs that Marks composed specifically for the movie, such as "We're a Couple of Misfits" and "There's Always Tomorrow."
But what's perhaps even more memorable than the plot or sound of the movie is the look of it. For a peek at Rudolph's signature stop-motion animation, here's the official CBS preview from YouTube:
Just look at Rudolph's cherry-red little nose! It's just like Santa Claus says: "His beak blinks like a bleeping beacon!"
So your Tuesday night plans are set. Get ready to sing along tonight, because you won't be able to help yourself once the Christmas magic starts. And, really, why should you? Adulting is hard. Chiming in with a bunch of animated reindeer is not. (Don't worry — they can't hear you.)