Chapecoense football club: What to know about the Brazilian team killed in plane crash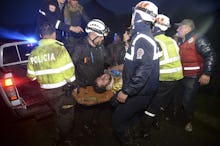 The plane crash that occurred earlier this morning near the city of Medellin, Colombia, was carrying 81 passengers, including 22 players from the Chapecoense Brazilian soccer team. The team's rise in recent years makes the tragedy all the more heartbreaking for many fans, and for the nation itself, which was embracing the club's recent successes.
Where is the Chapecoense football club from?
The Chapecoense football club (Associação Chapecoense de Futebol) is a soccer team hailing from Chapeco, Brazil, a city in the southern part of the country, just east of the border with Argentina. The city itself has seen substantial population growth over the past several decades and is projected to have just under 200,000 residents.
A club on the rise
The Chapecoense football club was founded in 1973 and since 2014 has been a part of the top division in the Brazilian soccer league — a remarkable rise in their stock, as the team had been part of the fourth division of teams as recently as 2009.
The team has been considered Brazilian soccer's "Cinderella" story in recent years, "naturally embraced by Brazilian soccer fans in general, becoming a fans' favorite," Argentine sports journalist Martin Mazur told CNN.   
The team had just won a huge match against an accomplished Argentine team, San Lorenzo, a victory that had cemented their place in the finals for the Copa Sudamericana. 
As a result of the recent tragedy, the team that was set to play Chapecoense has insisted that the Cup be awarded to them.
Chapecoense survivors
As of this writing, it has been reported that three players survived the crash: star defender Alan Luciano Ruschel, center defender Hélio Hermito Zampier and goalkeeper Jakson Ragnar Follmann.
Not everyone from the club was on the plane. Some players, pictured below, received the news of their teammates while awaiting their arrival.