Donald Trump may pick his secretary of state next week. Here are the top known candidates.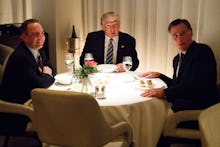 During a phone interview with Matt Lauer on Today to discuss being named Time magazine's Person of the Year, Donald Trump said he would likely announce his choice for secretary of state next week. The list of possible candidates has grown, but Trump's team is keeping things close to the chest.
"That list [of candidates] is expanding because there is not a finite list of finalists only because he will interview with additional candidates early this week," senior adviser Kellyanne Conway told reporters on Sunday.
On Tuesday, Fox News reported a list of 10 prospective candidates for Donald Trump's secretary of state nomination.
Joe Manchin, Senator of West Virginia (D), is reportedly being considered for secretary of energy, and former CIA director David Petraeus, who was sentenced in 2015 to two years probation and a $100,000 fine after sharing classified information with his biographer, would need his probation officer's permission to travel, a major part of the secretary of state position. Senator Bob Corker (R-TN), retired U.S. Admiral James Stavridis and Representative Dana Rohrbacher (R-CA) are recent additions to the prospective list of candidates. Of the 10, four stand out as the most likely choices.
Rex Tillerson, Exxon CEO and Putin ally
Although he has no experience in political foreign policy or diplomacy, thanks to Exxon's massive global footprint, Tillerson has ties around the globe, including Russian president Vladimir Putin. In 2012, Exxon and Russian oil company Rosneft signed a deal to access oil resources in the Arctic. The following year, Vladimir Putin, whose government owns a major stake in Rosneft, awarded Tillerson Russia's "Order of Friendship" for his contributions to "developing cooperation in the energy sector."
As CEO of Exxon, Tillerson has pushed back against calls to end use of crude oil, citing a lack of technological advancements to effectively replace crude oil and calling the notion "not acceptable for humanity." Exxon allegedly published intentionally misleading data to cast uncertainty on climate change back in the mid-aughts. In a 2015 shareholder speech, Tillerson mocked renewable energy and said his firm hadn't invested in renewable energy because "we choose not to lose money on purpose."
Mitt Romney, former Massachusetts governor and 2012 presidential candidate
According to Trump's interview with Today, former Massachusetts governor and 2012 Republican presidential candidate Mitt Romney is still in the running for secretary of state. Romney was a vocal critic of Trump throughout the 2016 general election, calling him "a phony, a fraud."
During his campaign for the presidency in 2012, multi-millionaire Romney traveled to Israel and Britain in an attempt to flex his foreign policy abilities. The trip was a disaster for Romney's image, earning him the nickname "Mitt the Twit" in British papers, as well as condemnation from Palestinian leaders after he claimed the reason for Israel's prosperity in comparison to Palestine was its having "culture." Saeb Erekat, Palestinian Authority's chief negotiator for brokering peace talks with Israel, called Romney's claim "a racist statement that shows a lack of knowledge."
Rudy Giuliani, former New York City mayor
In the wake of terrorist attacks on September 11th, 2001, Giuliani's "calm, unyielding (yet racially and religiously inclusive) leadership" — per the Economist — served as a beacon of strength and stability for the country. Oprah Winfrey dubbed him "America's mayor." He was knighted by the Queen of England in 2002.
But Giuliani has a troublesome relationship with foreign policy and diplomacy. In 1995, Giuliani tossed Yasser Arafat, head of the Palestinian Liberation Organization, out of a concert celebrating the 50th anniversary of the United Nations. According to OnTheIssues, a nonpartisan nonprofit that tracks positions and voting records of political candidates, a U.N. spokesperson called Giuliani's actions "an embarrassment to everyone connected with diplomacy."
In the 1980s, Giuliani denied asylum to Haitian refugees. He claimed "political oppression, at least in general, does not exist" under Jean-Claude Duvalier's regime, which human rights workers have called one of the most oppressive governments in the Western hemisphere.
In seeking the secretary of state position, Giuliani laid out some foreign policy priorities, most notably taking on ISIS and criticizing Obama's nuclear deal with Iran. During his RNC speech, Giuliani said the deal would let Iran "become a nuclear power and is putting billions of dollars back into a country that's the world's biggest state supporter of terrorism."
John Bolton, former U.N. ambassador
Senator Rand Paul said he would oppose John Bolton if Trump nominates him for secretary of state, stating, "It's important that someone who was an unrepentant advocate for the Iraq War, who didn't learn the lessons of the Iraq War, shouldn't be the secretary of state for a president who says Iraq was a big lesson." He added that both Giuliani and Bolton "have made it clear that they favor bombing Iran."
Bolton believes that America's biggest problem is the "self-induced weakness" of the Obama administration. In an op-ed for conservative site National Review, Bolton advocated for regime change in Syria as a solution to Assad's deadly dictatorship and its resulting civil war. In the piece, Bolton argues that Syria has become an "Iranian satellite under Tehran's growing regional influence" and "is quite possibly the site of ongoing, illicit nuclear-weapons activity by Iran and North Korea."
In another op-ed, for the New York Times, Bolton argued that, "even absent palpable proof, like a nuclear test," Iran is racing toward nuclear weapons and the solution is to bomb Iran before they get the chance. "The inconvenient truth is that only military action like Israel's 1981 attack on Saddam Hussein's Osirak reactor in Iraq, or its 2007 destruction of a Syrian reactor designed and built by North Korea, can accomplish what is required. Time is terribly short, but a strike can still succeed."