What gifts give back? Your holiday guide for gifts that help the world.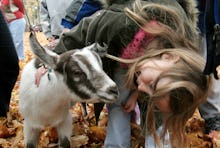 As the holiday season rolls around, it can feel like the pressure is on to pick out the perfect presents for family, friends and coworkers. But instead of loading up on material goods, another option is to make a gift that makes an impact. If you'd like to honor your loved ones by choosing a gift that gives back, here are a few organizations accepting donations. 
Millions of people worldwide are currently experiencing the devastating effects of a massive refugee crisis. The BBC reported Tuesday that just this week in Aleppo, Syria, a battle for control of the city had displaced 16,000 more civilians and left many still at risk. The International Rescue Committee works to help refugees around the globe, and receives an "A+" rating from the American Institute of Philanthropy's Charity Watch. Donors can choose a specific gift, like a full year of school or four temporary shelters, in honor of a loved one. Find out more about gifts here.
Meals on Wheels delivers food straight to the homes of millions of seniors. The organization operates all across the country through thousands of local programs, and donations to Meals on Wheels ensure that more people will receive meals. The organization allows donors to attribute gifts to specific honorees and is also accepting volunteers.
DonorsChoose.org connects people who want to give with teachers in high-need public schools in order to get the teachers exactly what they need to enrich their students. Donors can choose from "classroom projects" submitted by teachers and contribute to them as they wish. According to the organization's website, "Every donor gets a thank-you letter from the teacher, photos from the classroom, and a report of how each dollar was spent." DonorsChoose.org receives an "A+" rating from Charity Watch. More information about giving a gift through the organization is available here.
Heifer International is a global hunger relief organization whose mission is to fight hunger and poverty across the globe. The organization offers mentoring programs to help people learn new skills and provides livestock to help people and communities become more self-reliant. Donors can choose a specific gift, like a goat or an irrigation pump, to give in someone's honor. Charity Watch has not assigned a grade to the organization.
Habitat for Humanity builds homes across the globe, helping provide safe, affordable homes to families in need, and helps people become homeowners, working alongside them to build their houses and then helping ensure they have an affordable mortgage. Habitat for Humanity allows donors to contribute in someone's honor and is also accepting local volunteers. The organization has a B+ rating from Charity Watch.
The Trevor Project maintains a 24-hour hotline to help youth in crisis and offers suicide prevention resources to LGBTQ youth between the ages of 13 and 24. It also provides training for adults who work with LGBTQ young people. The Trevor Project gets an "A" rating from Charity Watch. Donors can make a gift in someone's honor here.