10 gifts for every badass feminist on your holiday shopping list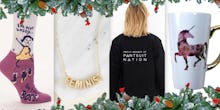 2016 has been a monumental year, both for women and the feminist movement they've long led.
Hillary Clinton became the first woman to be nominated for president by a major political party. Fourteen teenage girls from South Africa built the continent's first ever private satellite that will monitor Africa's weather conditions from space. Oh, and the number of women of color in the Senate quadrupled this election season. 
Beyond these powerful moments, 2016 has become a year for feminists everywhere to become more outspoken in their fight toward equality. While some feminists are showing their support forthright on social media, others choose more subtle nods to the feminist movement through sassy tote bags and branded clothing items. So, other than a continued, unwavering support for feminism, here's a few cogent items you can gift the candid (and totally badass) feminist in your life.
Let your favorite feminist make a powerful fashion statement with this bold (and historic!) pro-woman sweatshirt. As if that wasn't already good enough, 25% of the item's sales proceeds are donated to Planned Parenthood. Oh, and it's unisex. Hooray!
2. Empowering coffee mugs, $15
Every nasty woman could use another statement mug to brighten up their morning coffee (and that extends to all you "bad hombres," as well!). Whether it's a subtle "p*ssy grabs back" reference via a petite kitten-shaped mug or an audacious and empowering statement meant to send a message, you can never go wrong gifting someone a mug. Fill it up with some delicious holiday candy or a bag of their favorite coffee for some extra pizzazz. 
The pink cat, "Fierce" and "I'm not bossy, I'm the boss" mugs can be found here for $14.99 each. The "Nasty women get stuff done" mug can be found here for $15. 
3. Feminist enamel pins, $7.70 - $15
Everyone has that one friend that's obsessed with colorful enamel pins to decorate their faux-leather jackets and canvas backpacks with. And you can't blame them; they're pretty freaking cute. This holiday season, gift them an eye-catching enamel pin that sends a strong feminist message.
Get the Frida Kahlo pin here for $9.75, the feminist banner pin here for $15, the feminist cat pin here for $7.70 and the "Grow a Pair" pin here for $10.14.
4. Feminist books, $6.39 - $17.65
Knowledge is power, so gift your friends one (or all!) of these influential feminist books. From pointed criticism to subtle satire, each of these books stands as a literary ode to the feminist movement and why it's so important to fight for women's rights and equality. 
You can purchase Bad Feminist here for $9.19. How to Win at Feminism can be purchased here for $17.65. All the Single Ladies can be bought here for $16.87.
Also on our feminist reading list is Chimamanda Ngozi Adichie's We Should All be Feminists, which can be found here for $6.39, and Rebecca Solnit's Men Explain Things to Me, which can be bought here for $9.90.
Feminist marketplace The Outrage recently released a gorgeous line of apparel for their Pantsuit Nation collection. To complement gifting your feminist friend with some #StillWithHer apparel, know that 100% of the profits from this collection will be donated to Planned Parenthood in Hillary Clinton's name. 
6. Statement jewelry, $39.99 - $45
Jewelry is a simple but beautiful gift to give during the holidays. Rather than give your favorite feminist an ordinary piece of jewelry this year, opt for a statement piece that they can show off on any occasion.
You can buy the "feminist" slogan necklace here for $39.99, and you can buy the IUD pendant for $45 here.
Who says socks aren't an incredible holiday gift? Feminist Apparel offers an array of colorful socks with a ton of character for $11.95 a pair. Our personal favorite are the adorable Rosie the Riveter socks. 
Speaking of Feminist Apparel, the online marketplace is releasing their first ever feminist gift box this year. In addition to two fashion-forward feminist shirts, the FeministBox includes an array of clever pro-women items. Our favorite part? The inclusion of Chimamanda Ngozi Adichie's We Should All be Feminists. 
Here's our review of the FeministBox. 
9. Philanthropic donation, $1+
Don't forget about charitable giving this holiday season. Finding the right gift for someone can be difficult, so rather than giving your feminist friend something they might not use or appreciate, donate to one of their favorite feminist organizations instead. 
You can donate to Planned Parenthood, an organization that is dedicated to protecting and promoting reproductive health and rights. Another charitable organization to consider donating to is Tampon Tribe, a monthly tampon and pad subscription service that donates daily tampon packs to homeless women for each subscription sold. In addition to their toxin-free, plastic-free products, Tampon Tribe is also committed to donating to Girls INC, a nonprofit organization that inspires girls to be "strong, smart and bold."
Every badass feminist deserves to have at least one sassy tote bag in their closet. Feminist Apparel offers a wide variety of bold tote bags with powerful feminist statements printed on them. And, can we talk about how adorable the "Cats Against Catcalls" tote is? Like, seriously — need.