What caused the Chapecoense Brazil soccer team's plane to crash?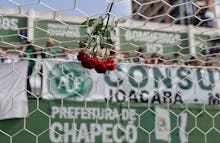 A plane carrying Brazil's Chapecoense soccer team crashed into the side of a mountain near Rionegro, Colombia late Monday. The team was on its way to what was expected to be the climax of a Cinderella season, having risen from obscurity into the national spotlight for the biggest game in the club's history. 
Of the 81 people on board, five survived; one person died after being rescued, bringing the death toll to 76, as of this writing.
According to the New York Times, authorities said the plane had reported electrical problems as it flew through the mountains around Medellín. Alfredo Bocanegra, Colombia's civil aviation director, told Colombian radio channel Blu Radio that the plane had declared an emergency and was given priority to land just before air traffic controllers lost contact with it. (Some international outlets are reporting that the plane's pilot, Miquel Quiroga, heroically circled the plane in an attempt to burn off fuel and later dumped fuel in order to avoid an explosion on impact that would've likely killed everyone aboard.)
Medellín Mayor Federico Gutiérrez told Blu Radio that "emergency support, with firefighters, ambulances and the hospital network" had been deployed before the crash, according to the Times.
CNN's weather team analyzed satellite images of conditions surrounding the crash site. They determined that during the flight, no severe weather was in the area. However, a nearby airport reported that the crash site could only be accessed by land due to worsening weather conditions.
Brazil President Michel Temer called for an official three-day mourning period in Brazil.