Tom Price's health care plan and other facts to know about Donald Trump's cabinet member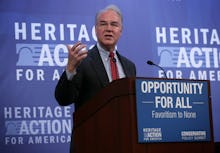 President-elect Donald Trump has tapped Georgia Rep. Tom Price to be his secretary of health and human services. Price has been a very vocal opponent of the Affordable Care Act and wants to scrap the plan altogether.
Earlier this month, Price unveiled his plan to replace President Barack Obama's signature health care plan, known as Obamacare.
"Under our plan, Americans would have more choices and the ability to pick a health insurance plan that meets their needs and those of their family. We would clear out the bureaucratic impediments to innovation and a more competitive marketplace while giving individuals and small businesses the ability to pool together and gain the purchasing power of millions," Price wrote on GOP.gov:
"We solve the insurance challenges of portability and pre-existing conditions by applying the same coverage rules that already exist in the employer-sponsored market – real, sustainable protections that mean no one can be priced out of the health insurance market if they have a bad diagnosis or injury. And, for those on a government health care program, we offer reforms that will empower states with the flexibility to best serve their Medicaid populations while offering Medicare beneficiaries more choices that will help save, strengthen, and secure this vital program in the years to come."
Price, a Republican, was elected to the House in 2004, according to his bio. He represents Georgia's 6th congressional district, just north of Atlanta. He serves on the House Committee on Ways and Means and is the chairman of the House Committee on the Budget.
Price is also an orthopedic surgeon and serves on the House Doctors Caucus, a group of 18 congress members who are are also medical providers. The caucus was created to help to shape health care policy in Congress.
Price will replace current HHS Secretary Sylvia Mathews Burwell, who has held the position since 2014.
"Chairman Price, a renowned physician, has earned a reputation for being a tireless problem solver and the go-to expert on health care policy, making him the ideal choice to serve in this capacity," Trump said in a statement. "He is exceptionally qualified to shepherd our commitment to repeal and replace Obamacare and bring affordable and accessible health care to every American. I am proud to nominate him as secretary of health and human services."