'Time' Person of the Year 2016 is Donald Trump, because of course he won that, too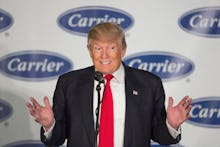 Every year, Time magazine chooses a person of the year to honor for their impact and contributions to the world. The tradition began after Charles Lindberg successfully flew across the Atlantic Ocean in 1927 and was named Time's man of the year. The title would later change to Person of the Year. For 2016, the Time person of the year is Donald Trump, former reality tv personality, businessman and President-elect of the United States.
The shortlist included the Flint whistleblowers, Beyoncé Knowles, and Olympian Simone Biles. Time readers voted for Indian Prime Minister Narendra Modi, who got 18% of the vote. Trump got 7%.
The runners up were Hillary Clinton, who came in second, and state-sponsored hackers, who came in third.
As Time editor in chief Nancy Gibbs noted in a conversation with Today Show hosts Matt Lauer and Tamron Hall, "The person of the year is the person who's had the greatest influence on events, for better or worse." Time often chooses divisive figures as their person of the year, from Adolf Hitler in 1939 to Ayatullah Khomeini in 1979. Last year, Time named German Chancellor Angela Merkel, who recently called for a countrywide burqa ban, as their person of the year. Trump, a runner-up last year, criticized the magazine for selecting Merkel, whom he said was "ruining Germany."
The Today Show revealed Time's choice on Wednesday morning during a sit down with Time editor in chief Nancy Gibbs. Before the reveal, Gibbs said this year as "one of the more straightforward years" in terms of selecting a winner:
This year may have been one of the more straightforward years. Some years it's very hard. Some years we have a pretty passionate debate internally about who really moved the needle and effected events the most. That was not really what it was like this year.
Explaining Time's decision, Gibbs asks:
When have we ever seen a single individual who has so defied expectations, broken the rules, violated norms, beaten not one, but two, political parties on the way to winning an election that he entered with a hundred to one odds against him? I don't think that we have ever seen one person operating in such an unconventional way, having an impact on the events of the year quite like this.
In a phone interview with Today Show, Trump said being selected was a "tremendous honor." 
When asked about his thoughts on Time's cover and subheadline, "President of the Divided States of America," and what he would have put instead, Trump responded, "I think putting 'divided' is snarky. But again, it's divided? I'm not president yet, so I didn't do anything to divide."
The full interview can be watched here.
Correction: Dec. 7, 2016