Indonesia earthquake: Here's what we know so far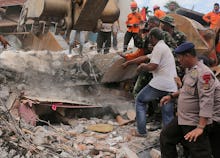 A deadly 6.5-magnitude earthquake struck Indonesia's Aceh province early Wednesday morning. At least 97 people were killed and 73 seriously injured, said Aceh Army Chief Commander Major General Tatang Sulaiman, according to CNN.
Sutopo Purwo Nugroho, a spokesman for Indonesia's National Board for Disaster Management, said the death toll could still rise.
"Now our priority is the search and rescue operation. We have to move so fast to save them," he said.
Sutopo took to Twitter to provide updates. One tweet, below, said early Wednesday that 53 were dead, one was missing, 73 were seriously wounded and 200 sustained light injuries as a result of the quake. 
"We estimate the number of casualties will continue to rise as some of the residents are still likely [to be] under the rubble of the buildings. The search and rescue operation is still underway," Sutopo said in a later update.
No tsunami warnings or advisories have been issued
Officials haven't declared a tsunami warning as of press time, but some residents have fled to the hills to find safety. In 2004, an earthquake and tsunami killed more than 227,000 and left millions homeless.
"They are still traumatized by the last big earthquake and tsunami in 2004," Sutopo said.
The Indonesian earthquake was shallow, which causes more damage
The earthquake was a shallow tremor, fewer than five miles from the surface, according to readings from the United States Geological Survey. Scientists say the closer an earthquake's epicenter is to the surface of the earth, the more damage it unleashes. Shockwaves from deep earthquakes can be felt more widely, but often do much less damage because they lose energy as they travel to the surface.
The Dec. 7 earthquake is the second major quake to hit Indonesia this year. In March, a deep 7.8-magnitude earthquake struck off the coast, but no injuries were reported.