Alexis Bledel teases 'Sisterhood of the Traveling Pants 3': Here's what it could be about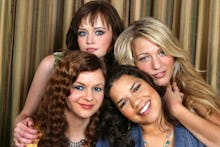 Alexis Bledel is no stranger to a reboot or sequel. As the world is currently swept up in Gilmore Girls: A Year in the Life, Bledel stopped by The Tonight Show Starring Jimmy Fallon on Monday to talk the Netflix revival and the possibility of a third Sisterhood of the Traveling Pants movie. 
Fallon said he's a big fan of the Sisterhood movies and asks if Bledel and her co-stars from the films — America Ferrera, Amber Tamblyn and Blake Lively — would do another movie. "I think we should absolutely do it," Bledel said. "We're working on it."
Fallon suggests an idea for a third installment in the franchise based on the best-selling books: The girls are older now and they've lost the pants and it goes so far that it turns into a horror movie. We'll put a pin in this idea.
The Sisterhood of the Traveling Pants came out in 2005 and was a moderate box-office success, earning nearly $40 million domestically. A sequel followed in 2008, The Sisterhood of the Traveling Pants 2, and earned $44 million. The second film was based on the fourth book in the series and includes storylines from the second and third books, which is why another sequel wasn't immediately made. 
In 2011, author of the Sisterhood series, Ann Brashares, released Sisterhood Everlasting, the fifth and final entry. In the book, readers catch up with the friends 10 years after the previous book, Forever in Blue: The Fourth Summer of the Sisterhood, making the perfect plot for a new film. 
In the fifth installment, Tibby has moved to Australia with her husband Brian and hasn't remained in contact with the other girls. Lena is an art teacher and not fully over a past flame. Bridget lives in San Francisco, and is ready to settle down with her longtime boyfriend Eric. Carmen is a successful actress working in New York City, dealing with her busy schedule. Tibby invites all the women to Greece with her because she has something big to reveal to them all that changes everything. 
Bledel, Ferrera, Lively and Tamblyn have become real life best friends ever since they all met during the first Sisterhood film. They've kept in contact over the years, always getting together — with or without the magical jeans.
Most recently, Ferrera and Tamblyn appeared on Spike's Lip Sync Battle. Tamblyn dressed up as Donald Trump and performed Color Me Badd's "I Wanna Sex You Up" and Ferrera performed Gloria Estefan's "Conga."