Facebook Messenger launches Instant Games with 17 titles including 'Pac-Man'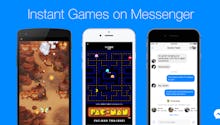 Facebook just made it easier to procrastinate with the launch of Instant Games, a cross-platform HTML5 gaming service accessible via Messenger and the News Feed. Users can now play a number of titles on both mobile and the web without having to download additional apps.
Instant Games rolled out 17 games to start, including Pac-Man, Space Invaders and Words With Friends. In a blog post, Facebook said "many more are to come," with titles ranging from arcade classics to modern favorites. 
Users can directly access games through a new game controller icon in the Messenger app, or stumble across titles in News Feed through friend recommendations, posts and challenges. Facebook has also added an Instant Games bookmark in the Explore tab where people can view and discover new titles. Score-based games are tracked through leaderboards visible only to the users who participate on Messenger. 
Facebook is working with established developers like Konami to roll out additional titles. "[Instant Games] opens up a unique opportunity for game developers to lower the friction for people to discover and instantly enjoy playing games without having to install new apps," the blog post added. Independent developers will also have the opportunity bring their games to the platform with a closed beta registration.
Instant Games launched in 30 countries and is available in up-to-date Facebook and Messenger apps for iOS 8 or later and Android 5 or later.