Best gaming motherboards for under $200: LGA 1151 models from Asus, MSI, Newegg and more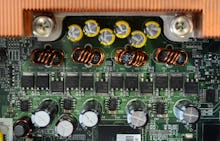 The motherboard is an essential part of any gaming PC since it holds all of your other internal components in place, and buying a new graphics card or more storage isn't going to help you much if you don't have the expansion slots or SATA ports to make use of them. Thus it pays to be thorough when searching for the perfect motherboard for your gaming PC, but luckily we've taken some of the research out of the equation with this list of some of the best motherboards on the market, with a little help from Monitornerds' updated guide. 
One of the most important aspects they cited was the socket type which governs what kind of CPU or microprocessor your motherboard will be compatible with. For the sake of uniformity, this list focuses on boards compatible with the LGA 1151 socket, the socket type used by Intel's Skylake and Kaby Lake processors. Not only will Skylake processors increase your overall Input/Output performance, they'll also help with upgrading down the road.
Best gaming motherboards 2017: Gigabyte H170 Gaming 3 for immensely affordable storage
The Gigabyte H170 Gaming 3 is an affordable ATX form factor board (meaning it's the standard motherboard size) with the following specs: Four DDR4 RAM slots with a maximum memory of 64GB, two M.2 ports and two SATA express ports (the most of any on this list) and four USB 3.0 ports.
Having four RAM slots means you'll be able to upgrade your RAM relatively easily unless you max it out to begin with, and the M.2 ports mean you can take advantage of M.2 solid state drives for memory storage. The Gaming 3 also comes with two Peripheral Component Interconnect Express (PCIe) x16 slots, which means you can install two AMD graphics cards and take advantage of AMD's Crossfire technology, allowing you to use both graphics cards at once for higher graphical performance.
Best gaming motherboards 2017: ASUS H170M-Plus is small but mighty
Price (Newegg): $99.99
The ASUS H170M-Plus is pretty comparable to the Gaming 3, but it has four PCIe slots. That means you could take advantage of AMD's Crossfire system with a whopping four graphics cards, which is great for graphics intensive games. It's also a micro ATX board, which means it's smaller than the Gaming 3 and will take up less room inside your computer tower. However, this means the H170M-Plus needs to make sacrifices in its storage and only comes with one M.2 port and one SATA express port.  It's tied with the Gaming 3 at 64GB of DDR4 RAM memory and actually has one more USB port (11 to the Gaming 3's 10), so it's might be a better choice if you're willing to sacrifice a little data storage for more power.
Best gaming motherboards 2017: MSI H170 Gaming M3 packs strong components for its price tag
Price (Newegg): $132.67
The MSI H170 Gaming M3 is a bit of a price bump up from the H170M-Plus and the Gaming 3, but isn't without its share of new features: It's got six USB 3.1 ports and seven available PCI slots (four of which are PCIe), in addition to having four RAM slots with a maximum memory of 64GB. The M3 also comes with a 32-bit 4-lane M.2 connector which allows it to use unique SSDs for significantly faster transfer rates. It also has an ATX form factor so it'll fit most standard towers. The only real complaint is that its RAM is locked at 2133MHz, but this isn't an issue if you're not planning on overclocking your PC.
Best gaming motherboards 2017: MSI Z170A Gaming Pro Carbon offers the perfect intersection of parts, features and price
Price (Newegg): $169.99
MSI's Z170A Gaming Pro has a handful of nice features that might make it worth the extra $37.50 it'll cost to upgrade from the H170 Gaming M3. It has 14 USB slots, a standard ATX form factor, a SATA Express and an M.2 port for high-speed memory storage, and 3 PCI slots capable of housing a graphics card. You also get four RAM slots capable of housing (you guessed it) 64GB. The only real point of criticism for the MSI's Gaming Pro is that the second PCI slot sits in line with its SATA connectors, so you're going to be strapped for space if you're planning on using more than one video card or want to max out your storage. 
Overall, PC Gamer named this the best midrange Skylake/Kaby Lake board they could find, praising its solid construction and wealth of features.
Best gaming motherboards 2017: ASRock Z170 Gaming-ITX/ac is your miniaturized media center/gaming option
Price (Newegg): $174.99
ASRock's Z170 Gaming-ITX/ac is an unusual board because it has a mini ITX form factor. This means it's the smallest board on this list, even beating the ASUS H170M-Plus. Since most small builds utilizing an mITX often function as media servers and media center PCs as well, the Gaming-ITX/ac comes with 2 HDMI ports, built-in wifi, Bluetooth and 7.1 surround sound audio channels. It also features 12 USB ports, a 32-bit 4-lane M.2 connector and two PCIe x16 connectors. However, as an mITX form factor, physical space limitations will quickly become an issue. You'll also be downgrading in terms of RAM, since the Gaming-ITX/ac only has two slots for a total of 32GB. That's a considerable sacrifice to make for a smaller board, especially for gaming. 
The Gaming-ITX/ac occupies an unusual niche in Skylake motherboards and is probably best suited for those who are planning on using both its media center and gaming functionalities, rather than just one or the other.
Best gaming motherboards 2017: ASUS Z170-Pro is the best introduction to overclocking
Price (Newegg): $194.99
The ASUS Z170-Pro's specs alone don't make it worth the (admittedly hefty) $200 price tag. It sports 4 RAM slots (64GB maximum), 3 PCIe x16 slots, 1 SATA and M.2 port each and 10 USB slots. 
What sets the Z170-Pro apart from the preceding motherboards is that it's incredibly easy to overclock. Normally, overclocking is a considerable time expenditure that requires you to manually set the overclocking parameters and stress test them to ensure you don't fry your computer. The Z170-Pro comes with integrated "5-way optimization" which allows the motherboard to overclock its CPU while also moderating the system's fans and maintaining stable power, meaning fewer stress tests and manual tinkering. The Z170-Pro also supports overclocking of its RAM sticks to up to frequencies of 3866MHz by enabling the eXtreme Memory Profile (XMP) for DDR4 RAM or manually overclocking them. 
These features, along with 8-channel HD Audio Codec and the durability of its components make the ASUS Z170-Pro a good option for anyone looking for an easy way to overclock their gaming PC without spending too much time or energy to do it.