Best gaming keyboards under $150: Logitech, Corsair, Razer and more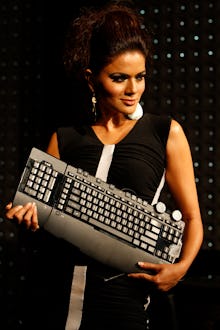 If you're building a new PC gaming rig for 2017 and beyond, you may also want to invest in a gaming keyboard to match your flashy new mouse. It may not be as exciting as getting a more powerful graphics card or upgrading your computer's RAM, but the keyboard is one of the main input devices you utilize to interact with your computer, so it doesn't pay long-term to skimp on it. If you play a lot of fast-paced competitive games like Overwatch and Battlefield 1, fast input time could mean the difference between a win and a loss.
There are many options for gaming keyboards, and there's no one-size-fits-all solution. However, we've chosen to focus on five mechanical boards that should take your gaming to the next level regardless of what types of games you favor, with enough extras to please even the most macro-heavy gamer.
Glossary of keyboard terms
Before diving in, here's a list of important terms you'll need to know if you're shopping for a gaming keyboard. If you already know your stuff feel free to jump ahead to the rest of the article.
Actuation point: The point in the key press at which the keyboard registers an input, usually anywhere from 1 millimeter to 2.2 millimeters.
Anti-ghosting: Another name for n-key rollover, meaning that each key press is scanned independently and detected irrespective of the total number of keys being pressed.
Clicky switch: A type of key switch that produces both tactile resistance in the form of a bump and an audible clicking sound when depressed, making it incredibly easy to know when you have hit a key's actuation point.
Ghosting: When a key is pressed down but not registered, usually due to the firmware of the keyboard limiting the number of simultaneous inputs allowed.
Key switch: The complete mechanism by which you activate a key, consisting of a key cap, stem, slider, metal contact leaves and spring housed in a switch housing.
Key travel distance: The total amount of movement the key makes in a registered key press. On a non-laptop keyboard, this is usually 3 millimeters to 4 millimeters.
Linear switch: A type of key switch that moves straight up and down without tactile feedback or clicking. Favored for gaming.
Mechanical keyboard: A type of keyboard where each key has a discrete key switch mechanism that registers keystrokes independently. The nature of the key switch (linear, tactile or clicky) results in a different feel when typing or gaming.
Tactile switch: A type of key switch that has a subtle bump when depressed to represent the actuation point, but lacks the additional loud click of a clicky-type switch. Better for quiet spaces.
You get a lot from the Thermaltake Poseidon Z keyboard for just $70: backlit keys, a full number pad, accessible media buttons and Kailh Blue key switches (essentially identical to their Cherry MX Blue counterparts) that give just enough feedback to make typing feel really good. 
However, Blue switches are loud compared to Cherry MX Red and Brown switches (discussed below), so they can be distracting when working in tight spaces. Some reviewers also reported the keyboard has a big red logo on the upper side of its casing, which may be off-putting for people looking for a more streamlined/elegant keyboard. But for the price, you're still getting a lot.
The Logitech G610 Orion Red is a solid mechanical keyboard that utilizes Cherry MX Red switches for keystrokes, allowing for rapid actuation and faster inputs. Gaming keyboards tend to favor the Cherry MX Red switch for gaming because of its low actuation point and key travel distance (the key actuates at 2 millimeters and only travels 2 millimeters beyond that, for a total of 4 millimeters), but reviewers note that these key switches take some getting used to for typing because they're so sensitive. 
The G610 Orion Red also comes with built-in media controls, programmable function key macros and a full-size number pad for less than $100, making it a great midpoint between budget and high-end keyboards.
If you're willing to spend the money, the Razer Blackwidow Chroma is an upgrade on the previous two keyboards in almost every way: It's got a full-size number pad, five dedicated macro keys (in addition to a gaming mode and a fully programmable keyboard), audio-out and mic-in jacks and a USB passthrough so you're not losing the USB slot you plug the keyboard into. Plus, it utilizes Razer's Chroma backlighting, offering unprecedented customization with 16.8 million color options to pick from for your backlighting. 
However, the Blackwidow Chroma is not without its idiosyncrasies. For example, it doesn't have a linear switch option like the Cherry MX Red. As PCGamer notes, the two switches used in Razer keyboards are the Razer Orange and Razer Green (developed by Kailh), which are roughly analogous to the Cherry MX Brown and Cherry MX Blue switches. This means your keys will audibly click when you press them and they won't have quite the reaction timing of the Cherry MX Red. It also lacks dedicated media controls, which seems like a bit of an oversight. 
If you're a Cherry MX key switch purist, you may still want to give the Razer Blackwidow Chroma a try. Most reviewers state you'd be hard-pressed to really tell the difference and that the extra tactile feedback is good for typing,
Corsair's K70 RGB Rapidfire is a full-size keyboard with a number pad, six dedicated multimedia keys, USB passthrough, programmable macros on all keys (but no dedicated macro buttons) and customizable RGB backlighting. It also features several quality of life improvements for gaming, like optional texturing and contouring on the keycaps and a detachable wrist rest, which some reviewers believe is a necessity to use this board) 
It also offers full key rollover with 100% anti-ghosting, which means that (in theory) the keyboard recognizes all your button presses, no matter what button or buttons are already being held down. This puts the K70 above the Blackwidow Chroma's 10 key rollover anti-ghosting, though according to Microsoft, it pays to be skeptical about such features.
The K70 also features Cherry MX Speed key switches, which the manufacturer touts as being 40% faster than even the Cherry MX Red switches (long favored for gaming). However, as you might expect, this makes the K70's keys extremely sensitive, which can take a lot of getting used to for typing. The Corsair K70 RGB Rapidfire is a solid dedicated gaming board, but might not be the best option if you're also planning on doing activities that require more precise keystrokes like coding or typing professional emails.
The Das Keyboard 4 Professional is technically too expensive to be on this list, but it has a number of features that make it worth considering anyway. As with all the other boards on this list, it's a full-size keyboard with number pad, dedicated media controls, an oversized volume knob on the righthand side and two USB 3.0 passthroughs for charging and data transfer. The Das Keyboard 4 also comes with either Cherry MX Blue or Cherry MX Brown key switches. Brown would probably be preferable if you're planning on doing a lot of gaming, but if you want more tactile feedback for typing, Blue is also a great option. 
Unfortunately, the Das Keyboard 4 is the only board on this list without backlit keys, which could be a deal breaker if you're planning on doing a lot of late night gaming or just fancy the color options of the Razer Blackwidow Chroma or the Corsair K70. In addition, the Das Keyboard 4 uses a magnetic footbar that doubles as a detachable ruler, which is good if you do a lot of design work, but it lacks traction to keep the keyboard still, which might be frustrating for some gamers. Additionally, since it's not designed as a dedicated gaming keyboard, the Das Keyboard 4 features no dedicated macros or programmable keys.
It's not a perfect gaming keyboard, but the Das Keyboard 4 Professional might be just the thing if you're looking for an elegant, sturdy keyboard that can pull double duty for gaming and word processing.