The best gaming mice under $100: SteelSeries, G. Skill, Corsair and more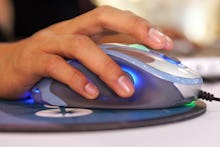 Here's an easy resolution for 2017 if you're a PC gamer: Buy yourself a nice gaming mouse. Although it's one of the two main input devices on your computer, people frequently neglect buying a new mouse when upgrading their setup. Whether you're looking to get a competitive edge in a first-person shooter like Overwatch or Counter-Strike: Global Offensive, playing a lot of turn-based strategy games like Civ 6, or looking to dig into some old-school real-time RPGS like Tyranny or the forthcoming Divinity: Original Sin 2, you're going to be playing them with a keyboard and mouse. 
Like most other pieces of tech, there's no easy answer to which gaming mouse is "the best" — it all depends on what you want to do with it. However, a good gaming mouse also doesn't need to break the bank. So we've taken the liberty of compiling some of the best gaming mice for under $100 below.
Best Gaming Mice 2017: Corsair Harpoon
Price (Corsair Website): $29.99
At a bare minimum, the Corsair Harpoon combines supreme affordability with a nice list of features. It's an optical mouse with six programmable buttons, customizable DPI settings (and memory storage to save them), a textured rubber grip and RGB lighting in the logo. These features make it a good choice for gamers who play a lot of different genres, though it lacks the deeper customization options of some of the other mice on this list.
Additionally, TechRadar reviewers criticized the relatively cheap make and feel of the mouse. So if style is what you crave, this might not be the ideal option for you.
Best Gaming Mice 2017: SteelSeries Sensei Raw
Price (Amazon): $36.30
For a modest price hike from the Corsair, you could also look into the Sensei Raw from SteelSeries. It's a very light optical mouse with seven programmable buttons, a simple design and out-of-box functionality. There's no need to install drivers or software to use it, but those seeking enhanced customization options can have more by downloading the SteelSeries Engine 3 driver. 
The Sensei Raw is also an ambidextrous mouse. Unfortunately, that means the Raw will never have as molded a grip as a dedicated right-hand mouse (and you might accidentally click some of the buttons without meaning to). It's an incredibly light mouse to boot, which won't make or break your gaming experience, but can be kind of inconvenient and annoying. Overall, it's a great, affordable investment if you're looking for plug-and-play functionality and the possibility of doing some left-handed gaming.
Best Gaming Mice 2017: G. Skill Ripjaws MX780
Price (Amazon): $39.99
Only a few dollars more from the SteelSeries, the G. Skill Ripjaws MX780 improves upon the Sensei RAW in a few key areas. It's an ambidextrous mouse that features interchangeable side grips, a height-adjustable palm rest and two adjustable weights. In short, it can provide a customized fit for every hand, regardless of grip type or preferred hand. It also features eight programmable macro buttons, four RGB lighting channels and an 8100 DPI sensor.
On the whole, the Ripjaws MX 780 is probably the best ambidextrous mouse on this list because of its customizable body. However, it's also a rather ostentatious piece; it's somewhat reminiscent of the Christopher Nolan-era Batmobile. So those who prefer a more subdued design would be better served by other options on this list.
Best Gaming Mice 2017: Logitech G502 Proteus Core
Price (Amazon): $54.99
If you're looking for a heavier mouse with customizable sensitivity, the Logitech G502 Proteus Core could be just the thing for you. It has six optional weights you can put into the mouse to raise its physical weight if you prefer a heavier mouse, along with five adjustable DPI settings and 11 programmable buttons on the mouse itself. Logitech's in-house sensor engineering is also some of the industry's best, so you're guaranteed to get the most out of the Proteus Core whether you prefer extremely high or extremely low sensitivity.
Although PCGamer praised the Proteus Core's weigh and ergonomics, they also noted that the 12,000-DPI max setting on the Proteus Core is too sensitive to be realistically useful for most gaming. Many of the programmable buttons are also inconvenient to reach and required a claw grip, which forfeited some stability. That's hardly a dealbreaker, but it's worth keeping in mind if you're playing a lot of MOBAs and MMOs, or just utilize a lot of mouse macros.
Best Gaming Mice 2017: Razer Deathadder Elite
Price (Amazon): $66
As long as you don't mind paying as much for a mouse as you would for a new AAA game, the Razer Deathadder Elite is the way to go. It comes with incredibly high praise, topping both PCGamer and TechRadar's lists. In particular, reviews praised the Deathadder Elite's simple, ergonomic shape, oversized tactile scroll wheel, well-placed buttons, esports-grade sensor and on-the-fly adjustable DPI (up to 16,000). The Deathadder Elite also comes with Razer's Chroma lighting, allowing for enormous color customization.
The Deathadder Elite also comes with some drawbacks. It requires an internet connection to utilize Razer's Synapse software, and your macros and presets will be saved to the cloud instead of an onboard memory. Additionally, its simple design might turn some people off, and it lacks the physical customization of something like the Ripjaws MX780 or Proteus Core. It's also missing advanced features like the Proteus Core's free-spinning scroll wheel.
Ultimately, the Deathadder Elite is a well-designed mouse that should do just about everything most gamers need. However, in situations where physical customization and ambidexterity are non-negotiable, it likely won't pass muster.