What is happening in Standing Rock, North Dakota? Timeline, facts and more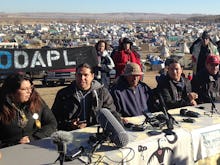 The 30-inch diameter Dakota Access pipeline is a 1,172-mile-long project that would connect southern Illinois and the Bakken and Three Forks production areas in North Dakota. DAPL, as it's commonly abbreviated, would transport from 470,000 to 570,000 barrels of sweet crude oil per day, according to DAPL parent company Energy Transfer Partners. ETP hopes to create between 8,000 to 12,000 local jobs during the pipeline construction while generating large revenues at the local and state levels. 
Although the transportation of crude oil seems profitable, the project has turned sour for the Standing Rock Sioux tribe. As a result, the project has ignited an outcry since its final approval in late July.
In the last several months, thousands of people have been gathering to support the Standing Rock Sioux tribe in their legal fight against DAPL. The protests have reached a boiling point, as reports indicate that authorities have used mace, security dogs and water cannons during freezing temperatures. 
What exactly is happening in Standing Rock and what's at stake? Here's a timeline and some facts to consider:
Dec. 22, 2014
Dakota Access LLC submitted an application to the North Dakota Public Service Commission to build a 358-mile pipeline originating in the Bakken and Three Forks oil formations. 
Feb. 17, 2015
The United States Army Corps of Engineers, a government body in charge of U.S. waterways, sent a letter to the Tribal Historic Preservation Office to consult interested tribes on the pipeline's impact, in accordance with the National Historic Preservation Act. THPO requested a full archaeological investigation, Mother Jones reported. THPO sent follow-up letters in ensuing months, which allegedly went unreturned.
March 25, 2015
The Public Service Commission, or PSC, considered the application complete and scheduled three public hearings during May and June 2015, according to local NBC affiliate KFYR. 
Sept. 15, 2015
Soon after a follow-up letter from the Army Corps of Engineers, or USACE, arrived, THPO expressed concerns about "significant and unevaluated properties" in the construction site. THPO concluded that USACE attempted to bypass the Section 106 process.
Jan. 20
The PSC unanimously approved the project. Commissioner Randy Christmann recused himself since a share of the pipeline was willed to his wife. 
April 29
Col. John Henderson of the USACE held a public hearing in Mobridge, North Dakota, so that Native tribe members could voice their concerns. Everyone who spoke at the meeting rejected the project. 
July 25
USACE issued a permit 12, which finally approved the construction of the pipeline across roughly 200 sites in four different states. The following day, the Sioux tribe filed an emergency motion for a temporary restraining order to stop the destruction of sacred sites. 
July 27
The Standing Rock Sioux tribe filed a lawsuit in federal district court in Washington, D.C., according to Earthjustice, a nonprofit law organization that represents the Standing Rock tribe. U.S. District Judge James E. Boasberg handled the case. 
Aug. 4
The tribe filed a preliminary injunction against USACE, because the pipeline was already under construction, 
Aug. 10
First arrests of demonstrators in the vicinity of the construction were made.
Sept. 3
Democracy Now! camera crew filmed security guards working for DAPL attacking protesters. On Sept. 8, Democracy Now! host Amy Goodman received a criminal complaint and warrant for her arrest after the State's Attorney Ladd R. Erickson presented charges against Goodman for "criminal trespass."
Sept. 9
The federal district court denied the Tribe's motion for a preliminary injunction. However, the Departments of Justice, Army and Interior announced they would halt any future permitting and would reconsider its past permits for the project. Energy Transfer Partners, however, continued the pipeline construction. 
Oct. 17
A North Dakota judge rejected charges against Amy Goodman for her reporting. 
Nov. 15
Energy Transfer Partners filed a lawsuit against USACE, claiming that the Corps has no right to "delay easement to pipeline construction." 
Nov. 25
USACE threatened DAPL protesters with possible arrests if they don't evacuate their camps by Dec. 5. 
Nov. 28
North Dakota Gov. Jack Dalrymple issued an executive order for the expulsion of DAPL protesters "to safeguard against harsh winter conditions."
Protests have turned more violent.
Clashes between law enforcement and protesters have turned more intense in recent weeks. According to several media outlets, nearly 30 protesters have been attacked by dogs or pepper-sprayed.
Some witnesses have offered gruesome accounts: 
In light of law enforcement's alleged excessive force, Democratic Sen. Corey Booker of New Jersey sent a letter to Attorney General Loretta Lynch last week requesting the deployment of federal surveillance in Standing Rock, Salon reports. In the letter, Sen. Booker asked for an investigation into the tactics used by security guards against protesters. 
The Trump-DAPL connection
The DAPL construction also represents a conflict of interest for President-elect Donald Trump, who owns stock in one of the participating companies behind the pipeline project. According to Gothamist, this year Trump listed $100,000 to $250,000 in stock for Phillips 66, a company that controls a substantial share of DAPL. Furthermore, Reuters reports that Energy Transfer Partners CEO Kelcy Warren donated $2,700 to Trump during the general election and gave $100,000 to the Trump Victory Fund, a joint fundraising committee that involved the Trump campaign, the Republican National Committee and state-level GOP groups in Arkansas and Connecticut. 
Previously, Trump has expressed support for similar and controversial projects, such as the Keystone XL pipeline, stating that "If I am elected president I will immediately approve the Keystone XL Pipeline. No impact on environment and lots of jobs for U.S." 
Despite Trump's friendly approach toward the extractive industry, some experts believe the completion of DAPL won't be his first order of business, due to the project's construction delays and its financial losses. "Let's face it: This is not going to be a high-priority project for his administration," University of Tulsa assistant professor of energy business Tom Seng told the Des Moines Register. "I don't see it as something that he can jump right in and get it moving again."
A brief history of the Standing Rock Sioux tribe 
According to the American Indian Heritage Foundation, the Sioux came to North America from Asia about 30,000 years ago. Since the mid-1800s, the tribe has fought to protect their land rights from white colonizers. The United States eventually recognized a portion of land as belonging exclusively to the tribe — also known as a "reservation" — in the Treaty of Fort Laramie in 1868. However, the U.S. government and army continued its attacks against the Sioux tribe, eventually resulting in Congress annexing land that had been granted to the tribe under the Fort Laramie Treaty, which resulted in the tribe's defeat and a renegotiation of their land acquired under the Laramie treaty. Today, nearly 30,000 Sioux natives live in South Dakota, including the Standing Rock Sioux Tribe. 
In order to honor their past and burial sites, the Standing Rock tribe has been arguing that DAPL will damage archaeological discoveries, the Atlantic reports. Iyokaptan Tanka (the Big Dipper) is a rock formation that might indicate the burial of an important tribal chief, and it is located near the projected construction path. In fact, the construction could have already damaged other burial and archaeological findings. 
Not only is the history of the Sioux at stake, but also sources of drinking water that have been threatened and contaminated by oil projects before. According to Earthjustice, a 2010 pipeline spill poured 1 million gallons of crude oil into Michigan's Kalamazoo River, and contamination still exists despite a cleanup effort that cost more than $1 billion. In addition, 50,000 gallons of Bakken crude oil polluted the Yellowstone River in Montana in January 2015. 
What's next for the protesters?
Even though Gov. Dalrymple issued an order to evacuate all protesters from their camps, CBS reports that protesters will challenge any executive decisions. While Gov. Dalrymple cited "harsh winter conditions" as the main reason to order their expulsion, protesters say that a cold weather will not curb their goals. "Inside here, it's warm," Seven Council Fires camp representative John Bigelow told CBS. "We're going to stand up and say, 'No, this has been 500 years of oppression and it has to stop now,'" he added.
Nearly 2,000 veterans are joining the protesters, hoping to stand between them and police officers. Tribal leader Dave Archambault plans to stay at the Oceti Sakowin camp to continue protesting. 
Meanwhile, the USACE said they will not forcibly remove protesters, but anyone staying after Dec. 5 is subject to prosecution, according to NBC. Last week, USACE announced that it would create a "free speech zone" for the protesters south of the Cannonball River, after closing the Corps-managed land north of the River. 
CNN reports that activists will remain in their camps until the environmental impact of the pipeline is thoroughly reviewed, even as winter draws near.