What to know about KT McFarland, Trump's national security pick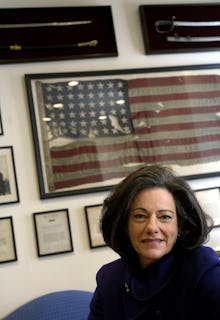 President-elect Donald Trump named Kathleen Troia "KT" McFarland as his deputy national security adviser last week. She will work under Trump's national security adviser, retired Lt. Gen. Michael Flynn.
McFarland said she's "honored and humbled" to serve in Trump's administration.
"The American people chose Donald J. Trump to lead them for a reason," she said in a statement after her appointment. "He has the courage, brilliance and energy to make America great again, and nobody has called foreign policy right more than President-elect Trump, and he gets no credit for it. I'm honored and humbled that he has asked me to be part of his team."
She also recently took a dig at the Obama administration's foreign policy record on Twitter.
McFarland also tweeted that working with Russian President Vladimir Putin to fight terrorism might be a good idea; in 2013 she wrote for Fox News that Putin deserved the Nobel Peace Prize.
McFarland was deputy assistant secretary of defense for public affairs under President Ronald Reagan. She compared Trump's foreign policy views to Reagan's "peace through strength" mantra.
"I'd put him smack down in the middle where Ronald Reagan was," she said on Fox Business. "Have a strong military, but you don't use it, and you have such a strong military that nobody picks a fight with you. But then if they're dumb enough to do it, then you respond."
McFarland also ran for Senate in New York in 2006 but failed to win the Republican primary.
According to her bio, McFarland also served in national security posts in the Nixon and Ford administrations, as an aide to Henry Kissinger and as senior speechwriter to Defense Secretary Caspar Weinberger. In 1985, she received the Defense Department's highest civilian honor, the Distinguished Service Award, for her work in the Reagan administration.
Her appointment is not without controversy, however. In a 2006 New York Times magazine profile McFarland talked about her late brother Michael, who reportedly died of AIDS. 
"Shortly after she discovered Mike had aids, she wrote her parents lengthy, angry, almost Gothic letters in which she outed her brother, blamed her father for his troubles as well as those of her and her other siblings, and cut off contact with her parents. "Have you ever wondered why I have never had anything to do with Mike and have never let my daughters see him although we live only fifteen minutes away from each other?" she wrote. "He has been a lifelong homosexual, most of his relationships brief, fleeting one-night stands."
McFarland worked as a Fox News national security analyst until her recent appointment, which does not require Senate confirmation.