ISIS claims without evidence that OSU attacker Abdul Razak Ali Artan was ISIS "soldier"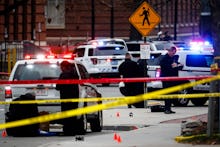 A message released on Tuesday by an ISIS media source claimed that Abdul Razak Ali Artan — the Ohio State University student who allegedly drove a vehicle into pedestrians and attacked others with a knife, before being fatally shot by a police officer on the school's campus on Monday — was an ISIS "soldier," according to ABC News. 
The terrorist group reportedly released a message online claiming the Somali-born Artan, who was a legal permanent resident of the U.S., had "carried out the operation in response to calls to target citizens of international coalition countries," ABC News reported, citing a translation by the SITE Intelligence Group, a counterterrorism organization.
The Islamic State group's attempt to take credit for the OSU attack that left 11 people wounded comes despite the fact that, as ABC News reported, "no evidence has emerged publicly to suggest ISIS had foreknowledge of the OSU plot," and messages purportedly written by Artan on Facebook did not appear to make any specific references to ISIS.
ISIS has, in the past, attempted to take credit for attacks even when there is no evidence that the group had foreknowledge of any plans. Shortly after ISIS claimed credit for the deadly June attack at Pulse, a gay nightclub in Orlando, Time reported that such claims "underline a pattern in which ISIS seeks to inspire sympathizers to carry out attacks — with or without operational support from the group — and then claims responsibility for the carnage after the fact."
The investigation into Monday's attack is ongoing, but early reports have indicated that a post on a Facebook page seemed to indicate Artan was angry about the treatment of Muslims.