Is Drake dating Jennifer Lopez to get back at Diddy? That's what Funkmaster Flex thinks.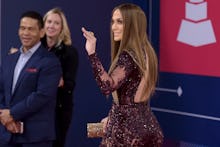 On Thursday, Funkmaster Flex took to Twitter to share his thoughts on rumored new couple Drake and Jennifer Lopez, claiming the two are dating so Drake can "get back" at Diddy.
In his tweets, the DJ throws shade at both Drake and Lopez. According to Flex, the Instagram picture of the couple, uploaded Wednesday and which may or may not have confirmed their relationship, was a way to get back at Diddy. Why? Well, Tuesday was the anniversary of the day Diddy and J. Lo were involved in an infamous club shooting in 1999. 
The beef between Drake and Diddy goes way back. It all started in December of 2014 when the two rappers got into a fight at DJ Khaled's birthday party. Fast-forward to the summer of 2015, when the pair reportedly resolved any remaining issues they had over a phone call, according to TMZ.
During that same summer, Diddy addressed their beef in an interview on The Breakfast Club, claiming their feud was overblown. 
This year, it started up again with Drake's song "4pm in Calabasas," which has some lyrics many believe are the Canadian rapper firing shots at Diddy. And after an appearance at one of Drake's concerts in the summer, Diddy presented the award for best hip-hop video to Drake at this year's VMAs; when Drake didn't show up, Diddy jokingly accepted it on his behalf. The impromptu move left fans wondering whether everything was alright between the two. Guess we'll have to wait and see how Diddy reacts to this new couple.