Happy birthday, Chrissy Teigen: Her 12 greatest clapbacks on Twitter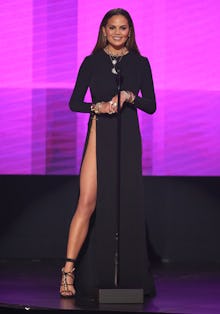 Nov. 30 is a special day for Chrissy Teigen, who celebrates her 31st birthday. The model and cook is known for her social media presence, filled with hilarious Tweets, photos and videos. Teigen isn't afraid to share what's on her mind and has gotten into more than a few fights online. Whether it's about fashion, politics or cooking, Teigen is always ready to defend herself and those she cares about in 140 characters or less, and she will definitely take a stand for what she thinks is right. 
Check out some of her greatest clapbacks on Twitter.
Chrissy Teigen responds to Trump's outcry after Pence gets booed at a Hamilton performance
Chrissy Teigen slams Piers Morgan
Chrissy Teigen proves she's always ready for a good Twitter fight
Chrissy Teigen responds to a Twitter user who chastised her for going "underwear-free"
Chrissy Teigen voices her opinion on "mommy shamers"
Chrissy Teigen lets the world know she doesn't need their "unsolicited baby advice."
Chrissy Teigen shares her thoughts on President-elect Donald Trump's wife, Melania.
Chrissy Teigen proves she's never been a Donald Trump supporter
Chrissy Teigen shakes off insults from President-elect Donald trump supporters
Chrissy Teigen responds to a Twitter user who claimed her foul language made her a poor role model for her child
Chrissy Teigen responds to a Twitter user who questioned why she is even famous
Chrissy Teigen weighs in on the Starbucks holiday cup debate