"Get in the Bag, Nebby" Memes: This 'Pokémon Sun and Moon' character is going viral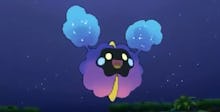 Pokémon Sun and Moon has already spawned some great memes, but the best one may come from a rebellious little Pokémon that plays a big role in the new games. Meet Nebby, an adorable Cosmog that can't seem to stay out of trouble. 
Nebby belongs to Lillie, a key character in Pokémon Sun and Moon. Nebby also happens to be a very rare Pokémon, which is why it's usually kept hidden inside a duffel bag. Unfortunately, it refuses to stay put, often forcing its way out of the bag and into potential danger. Thus, the "Get in the bag, Nebby" meme was born.
Nebby hates bags. That's pretty much the extent of this Pokémon Sun and Moon meme. Pokémon fans still managed to get a lot of mileage out of the idea, though, and the results are hilarious.
You can think of Nebby as the new Pikachu for Pokémon Sun and Moon: Not only is this thing freaking adorable, but it also refuses to follow orders.
Nebby channeling its inner Samuel L. Jackson:
Here's one for all the It's Always Sunny in Philadelphia fans out there:
"Get in the bag, Nebby" meme takes on a life of its own
Nebby's meme even inspired a Twitter account devoted exclusively to the Pokémon's hatred for bags of all kinds. If you want more Nebby, go ahead and follow @NebbyInTheBag right now.
Nebby is even bleeding over into other popular memes, like Evil Kermit:
"Get in the bag, Nebby" meme: Saving the best for last
Finally, here's a particularly amazing take on the Nebby meme, which combines the love for Pokémon with SpongeBob SquarePants:
More Pokémon Sun and Moon guides, tips, tricks, cheats and secrets from Mic
If you're serious about Pokémon Sun and Moon, you'll want to read up so you can be the very best. Check out our guides for picking the right starter, Pokémon Sun and Moon cheats, using a damage calculator, how to catch the new legendary Pokémon, how to get Munchlax, how to customize your character, how to trade, how to find all the evolution stones, how to use QR codes, all the Team Skull passwords, which Pokémon to catch early on and picking between Pokémon Sun and Pokémon Moon.