2017 Food Trends: Here's what everyone will be eating (and Instagramming)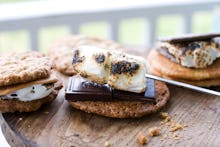 Just as clothing and cars go out of style, so too does food. 2016 was inundated with rainbow everything and, in stark contrast, black charcoal-activated everything as well. 
But 2017 is going to be beyond filter appearance and back to what's important: taste. Hallelujah. Here's what you'll be seeing on menus and your social feeds when the clock strikes midnight on Jan. 1 — or, at least, in the year to come. 
S'mores everything
While the Year of the S'more has been building momentum for some time, 2017 will officially be the year of s'mores everything and anything. From the Facebook-famous s'mores tartuffo at L'Oca d'Oro in Austin, Texas, to a giant s'mores mochi at New York City's secret dinner table speakeasy to the new s'mores Girl Scout cookie — if the Girl Scouts can't predict a trend who can? — debuting in 2017 and even an artisanal s'mores kit at Anthropologie, s'mores are starting to take over. It's about time. And yes, you'll still want some more. 
Tiny fish
Eating lower on the food chain has been shown to be better for the environment, your health and your wallet. Small fish like anchovies, sardines and smelt are high in protein and low in fat, as well as packed with vitamins and minerals essential to a healthy diet. Expect to see anchovies on more than just Caesar salad, like at newly moved and reopened Bon Chovie in Brooklyn, New York City, which, in addition to puns, specializes in fried anchovies. And you know Brooklyn is a breeding ground for budding food trends (See: Rainbow bagel).
Meat-free meats
As concerns about the environment and climate change rise, interest in meat alternatives has grown as well. As the race for the first consumer-ready test-tube meat, aka cultured meat, continues, several vegetarian-friendly meat alternatives are already on the market, like the much-buzzed-about Beyond Meat. The start-up, which even gained a major investment by Tyson Foods in 2016, created a meat alternative that looks, tastes and even appears to bleed like a burger, though it's made from 100% plant proteins. 
Veggies forever 
Spiralizing hit it big in 2016, with zoodles dominating everything from Pinterest to trendy restaurant menus. Following in the trend of substituting veggies for foods that generally taste better without vegetable impersonators, cauliflower rice became a Big Thing in 2016, as did all sorts of ways to re-create traditionally carb-y foods but with vegetables. Bring on the broccoli crust pizza. 
If you want evidence of a big trend ready to sweep the nation, just look to New York, where the newly opened meat-free and recently Michelin-starred restaurant Nix has reservation waits rivaling Hamilton. "As the number of delicious vegetarian offerings increase and more information becomes available on the positive effects of a plant-based diet, people will start to take days off of eating meat," Chef John Fraser of Nix said in an email. "This small shift will have a huge impact, " 
Seaweed
Along with all that not-meat and extra veggies, expect seaweed to be a prominent feature of your 2017 diet. "As American consumers become increasingly health-conscious when it comes to the foods they eat, nutritionally rich options, like seaweed, receive more and more attention to support their cleaner eating habits," Nayoung Shin, head of marketing at CJ Foods, said in an email. 
In just a year, the seaweed market has grown by 15%, according to IRI Worldwide, and over the past five years, seaweed food and drink products have increased by 76% in North America and 147% in Europe. So yeah, seaweed — which is naturally gluten-free, dairy-free, vegan and deliciously salty — is getting big. 
And it's not just for sushi. "Seaweed makes for the perfect snack and recipe ingredient because it's light, nutritious and versatile," Shin said. "One serving of seaweed is loaded with more calcium than broccoli and is almost as rich in proteins as legumes." Shin continued:
"It's low-calorie, low-sugar with zero grams of fat and carbohydrates. Plus, seaweed can be enjoyed raw, baked, hot or cold. It can serve as a healthy side dish or added to soups or salads. Seaweed can even be used as a salty topping for popcorn or made into a tasty rice ball. There are endless ways to enjoy this nutritious and delicious superfood." 
Bye, kale.
Branded restaurants
As Baum and Whiteman's 2017 food trends report pointed out, both food and nonhospitality companies are quickly expanding into the restaurant and food service space. In 2016, a cereal cafe opened in Times Square, Moleskine opened its first cafe in Milan, Italy, and Pepsi even opened a trendy club-staurant in New York's Meatpacking District, under the cleverly inconspicuous name Kola House. As marketing expands beyond traditional advertising and product placement, expect even more major brands to capitalize on this trend. iRamen restaurant, anyone? 
Fancy packaged meals
Meal kits are great and all, but they take work: 90% of meal kit users abandon their subscriptions within six months. While millennials may have laid off Lean Cuisines and relied on prechopped boxed ingredients for the past few years, expect the laziness to set in (that's why these kits were created in the first place) and the microwavable meals to return to prominence.
But now that we've seen how good preparing food at home can be, these frozen and packaged meals need to step it up. In 2016, brands began launching their restaurant-equivalent heat-at-home meals, like Devour's frozen white cheddar mac and cheese with bacon and ravioli with Italian sausage and pesto, Victoria Fine Foods Chef Collection's jarred penne alla vodka (think adult beefaroni) and Daily Harvest's freeze-and-heat soup cups using fresh veggies. Expect to see many, many more ready-to-eat gourmet-style meals in 2017.