Who is Steve Mnuchin? What you need to know about the reported pick for Treasury secretary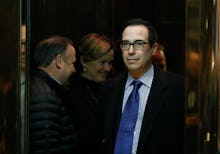 President-elect Donald Trump is reportedly set to choose Steve Mnuchin as the next secretary of the U.S. Department of Treasury, sources close to the presidential transition told the New York Times in a report published Tuesday.
Mnuchin was long seen as the frontrunner for the post, as one of the first Wall Street stalwarts to support Trump. He served as the national finance chairman for Trump's campaign — although the president-elect has reportedly sued Mnuchin's hedge fund in the past.
Mnuchin is one of Trump's most significant appointments so far, as other key posts like secretary of state remain unfilled; the Treasury secretary is fifth in line to the presidency and tasked with overseeing everything from tax policy to Wall Street to unemployment levels. 
While somewhat expected, Mnuchin's appointment is unlikely to be without controversy.
Mnuchin has no government experience, and was a second-generation Goldman Sachs banker before going on to launch a lucrative career in hedge funds and movie production. 
Alexis Goldstein, a senior policy analyst for progressive nonprofit Americans for Financial Reform, told Mic that even Mnuchin's placement on the transition team was a "betrayal" of supporters of Trump's populist rhetoric.
"[Mnuchin] is a guy that made a lot of money off the foreclosure crisis and is a hedge fund manager and who was certainly not working on behalf of homeowners — he was profiting off of them," Goldstein said in an interview before the reported announcement.
Mnuchin's involvement in the foreclosure crisis relates to his acquisition of a troubled bank, IndyMac, which Mnuchin and other partners were able to acquire for a bargain during the depths of the financial crisis. 
After rebranding as OneWest Bank, the company reportedly foreclosed on 36,000 homes during his tenure, while Mnuchin made as much as $200 million.
The company has also been accused by housing advocacy groups of racial discrimination and breaking federal redlining laws. OneWest gave just two loans to black borrowers in 2014 and 2015, across a region of Southern California with 52 branches, according to Bloomberg. 
Lending rates to Asian and Latino borrowers were far below those for peer institutions as well, the Los Angeles Times reported.
Mnuchin would be one of many Goldman Sachs alums to run the Treasury Department in recent memory. 
Henry Paulson, who had the job under President George W. Bush, and Richard Rubin, who served under President Bill Clinton, had long tenures at the bank as well.