Jewelry Gift Guide 2016: Our picks from Alexis Bittar, & Other Stories and more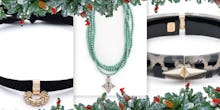 We'd like to think we've evolved from the concept of a diamond being a girl's best friend. But something about the holidays and jewelry screams "relationships!" Maybe it's the 5,000 engagement rings that pop up on our Facebook timelines this time of year. Or perhaps it's the steady stream of Kay, Zales and Jared white winter engagement commercials.
Nonetheless, buying jewelry is definitely not mutually exclusive with being in love. In fact, jewelry is a great holiday gift for family, close friends or even someone in your life who means a lot to you, but you're not dating. And with the endless amount of non-ring options — that we avoided because of specificity in taste and style — speaking to a variety of personalities, the options are endless.
With that said, peep our 10 jewelry suggestions for your holiday shopping list.
Beyond the rustic rosary vibe this piece from Akola is giving us, there's something decadent about grouped 34-inch chains. You can chose between a gold or silver cross pendant and 100% of product sales are reinvested in the social mission to empower women globally.
Nope, you're wrong. Chokers are not going anywhere anytime soon. In fact, they may be here to stay. So if you're going to gift one, you might as well buy a charming velvet choker with an oxidized gold plated pendant called, "Goldie." Tres chic.
If you love to give 24-karat treasures to the women in your world, this New York by way of India earring, is a great option. Handmade with zurite malachite stone at the center, the gold-plated brass fringe gives it a trendy flare.
What's an artsy person without a bold accessory to stand out in a crowd? These hand-carved brass gold earrings have a matte finish that's good enough to rock at any contemporary art exhibit mixer.
There's always that one person who loves anything in panther or cheetah print. Knock their socks off this year with this easy-to-clasp bracelet that comes in two different colors. Shh... neutral is our favorite choice.
An oldie but goodie for jewelry gifts is a cool brooch. This sapphire-toned gemstones option from & Other Stories is fastened on with a silver chain that connects each pendant.
This is probably the fanciest beaded bracelet you'll find this season. Woven cotton, silk passementerie and colored glass beads fastened with an 18K gold-plated bead clasp, make this a certified show piece. But honestly, anything bright and fun like this is a winner, regardless of fancy factor.
We're all about supporting New York City's Garment District, and these drop earrings do just that. These geometric beauties came about through a Creatures of Comfort and Leigh Miller collaboration that also produced funky rings.
If you're going to cop something all the way from the UK, it might as well be stunning. These french hook closure earrings are just the right pick, made from gold-plated brass and faux malachite stone.
This sterling silver mesh chain is a safe option for basically everyone on your gift list. It won't clash with any outfit. And it's easy hook clasp affirms it as the simplest daily item to put on.