10 shoes to buy for holidays 2016: Christian Louboutin, Brother Vellies, COS and more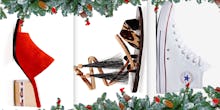 Shoes as gifts can be challenging for the holidays. Unless the person you're gifting has been very clear about what they want, you're left to the internet sale wolves to figure it out. In addition to knowing their specific shoe size (length and width included), you have to know their comfort level and personal style.
Luckily, we've pulled options that the person being gifted is sure to love.
You'll find throwback options from Adidas and Converse below, but we also tapped into new trends that have serious mass appeal. And you'll notice none of these shoes have insanely high heels or geometric shapes — it's all about comfort to us. 
Keeping this in mind, check out our 10 shoe picks for the 2016 holidays!
Once spring hits, a good mule heel is necessary. Sorry, scratch that. A good and comfortable mule heel. This suede and beechwood iridescent heel is a beautiful option from Dear Frances that stands out from the rest.
In the summer of 2013, brown girls everywhere were ecstatic when French fashion house Christian Louboutin debuted a line of skin tone-inclusive heels. Fast forward to 2016 and they now offer the nude shades on all their staple shoes, like this ballerina flat that will get used over and over again by anyone who's constantly on the move.
Full disclosure, these fabric-lined sneakers from Ash are going to be a hot commodity. Fastened with elastic straps and complemented with satin flowers and beads, it's such a hot commodity that's it's only available for pre-order right now, with a ship date of Feb. 24.
The cyclical nature of fashion is alive and well with these throwback Adidas Superstars. The Kith twist on these is that they were snakeskin-inspired and require a certain level of dedication to keep clean. We think it's worth it.
Your late-night bike riding or jogging friend will love this gift for two reasons. First, the custom Ghost Green shade is bright as hell, which will make them visible after dark. Second, it's from one of NYC's most hypebeast sneaker stores. Win-win.
Stick with a classic for the holiday season. Why? Because there are few people under the sun who won't appreciate a go-to comfortable sneaker. Also it's good for the family, as it comes in men's, women's and children's sizes.
Put aside that the designer of this shoe, Aurora James, is a CFDA Award-winner. And forget that there's major cache in wearing anything from Brother Vellies, which outsources its production to sustainable factories in Kenya. Just look at this sandal. It's so stunning you'll make beach plans months ahead of summer just to wear these.
Australian cool-girl brand COS made the perfect heel for the anti-heel girl. This bow-ladened slingback is made from softly brushed suede and cushioned insoles for all-day wear. Hate the bow? No worries, it's detachable.
Again, keep it safe when buying someone a heel. This minimalist Stuart Weitzman sandal, made in Italy, has a modest 2.25-inch heel to avoid discomfort. Note: It has an adjustable buckle ankle strap with hidden elastic for comfort.
For the soccer lover or anyone serious about their sneaker up-keep, this limited edition kit from Jason Markk is clutch. Included is a 2-ounce cleaning solution, a miniature wood premium brush, a premium microfiber towel, quick wipes, and Stance fusion athletic quarter socks featuring a new antimicrobial treatment.