Wilbur Ross, billionaire investor, reported as Donald Trump's commerce secretary pick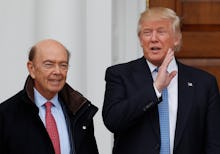 President-elect Donald Trump is expected to name billionaire investor Wilbur Ross, a free-trade opponent with experience in corporate restructuring, to the position of secretary of commerce, CNNMoney reported Tuesday.
Ross, 79, is the chairman of the Manhattan, New York-based W.L. Ross & Co. and is currently one of Trump's economic advisers. Forbes estimates Ross' net worth at $2.9 billion, making him one of several multi-millionaires and billionaires Trump has chosen or is likely to choose for his Cabinet.
Ross has a controversial history as a major player in distressed investing, the business of buying failing companies and attempting to turn them around.
While some credit him with saving failing coal and steel companies — a major priority on Trump's economic agenda — the Daily Beast reported that Ross "has a history of sending manufacturing work to China and Mexico."
According to the Nation, Ross "cut jobs, wages, pensions and health benefits at the companies he acquired" — standard activities during corporate restructuring that nonetheless conflict with Trump's populist message.
An International Coal Group facility owned by Ross, West Virginia's Sago Mine, collapsed 20 times in 2005 amid 208 federal safety violations that year, according to the Nation. Unsafe conditions at the mine reportedly led to injury rate three times that of other comparable facilities and the death of 12 miners in a 2006 collapse.
Ross is a vociferous critic of President Barack Obama's trade policy and has criticized the unsigned Trans-Pacific Partnership deal as well as NAFTA, the North American Free Trade Agreement, which has created strong trade ties between the United States, Canada and Mexico.
If confirmed as secretary of commerce, Ross would run the International Trade Administration, the federal agency overseeing compliance with trade agreements.
Ross is also a strong supporter of cutting corporate tax rates.