Donald Trump says he'll leave his business "completely" — but a huge question remains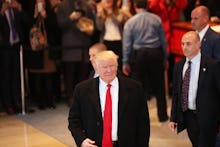 President-elect Donald Trump tweeted early Wednesday morning that he was in the process of crafting legal documents to leave the Trump Organization completely in order to focus on running the country. 
Committing to a Dec. 15 press conference without providing any real detail now is a savvy move by the president-elect: The date falls less than a week before the Electoral College will meet to choose the president.
As Politico reported, a movement urging electors to stop Trump from assuming the presidency is currently gaining momentum — and a crucial issue the electors will have to consider is whether Trump's unprecedented financial conflicts of interest make him constitutionally unfit for office, as Congressional Democrats and former White House ethics lawyers have argued.
As critics have pointed out, even if Trump does "leave" the company, there's still a big conflict if his children run his business in his stead. It's particularly thorny if they remain active in his presidency — as they have so far, with positions on his transition team.
But even if they step away from his government, that would not solve the fundamental ethical problem.
"His children managing the company, even if they never talk to him, would still be a conflict of interest as the law is traditionally understood," Andy Stark, a professor at the University of Toronto and author of the 2003 book Conflict of Interest in American Public Life, told Mic. "Your judgment is as skewed by what benefits your kids as much as it is by what benefits yourself."
And as the Washington Post's Anne Applebaum pointed out on Twitter, leaving his company would have to be only the first of many steps toward meaningful divestment. 
Trump has increasingly come under fire as more and more potential business conflicts come to light, and the president-elect has, at times, appeared to mix business and diplomacy, such as by arranging a meeting with his business partners in India during the presidential transition. 
Many legal ethicists and scholars believe that some of Trump's business arrangements with foreign leaders, such as the Bank of China, may constitute a violation of the emoluments clause of the Constitution, which proscribes elected officials from accepting gifts without permission from Congress. 
That's why many experts agree it's his stakes in foreign companies in places including Saudi Arabia, Turkey and the Philippines that pose the greatest threat to Trump's credibility: Even if he doesn't sell everything, critics argue Trump must sell properties that could constitute a national security risk down the line.
Violating the clause could be grounds for impeachment, and Trump's tweets seem to ignore the possibility the clause could be a legal problem for him — noting only that making a change is "visually important," and stating that he is "not mandated" to divest of his businesses according to the law. 
Senate Democrats have strongly disagreed with that assessment. 
On Tuesday Maryland Sen. Benjamin Cardin introduced a nonbinding resolution aimed at increasing pressure on the president-elect to use an actual blind trust — meaning that his assets would be transferred to a truly independent trustee who would manage them while he's in office. 
Trump's Wednesday tweets suggest he may be bowing to increasing pressure to reconcile the conflicts, but until Trump announces more details, it will be hard to know if his conflicts will be resolved in earnest.
The Wall Street Journal and others have suggested the most expedient way to divest himself completely would be to sell all of his holdings through a public offering, a suggestion that Trump has rebuffed in the past. 
Some observers have even questioned whether the president-elect even wrote the tweets himself, noting the time frame and the fact that the word choice were not in line with Trump's typical rhetorical style. 
A spokeswoman for the Trump transition team didn't immediately respond to request for comment.