At the 2016 Victoria's Secret Fashion Show, natural hair might be making a big statement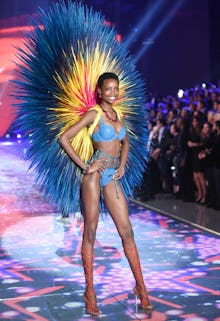 At last year's Victoria's Secret Fashion Show, model Maria Borges made history. 
Wearing a giant spherical display of feathers for wings and a neon blue lingerie set, she pranced around on the stage with her hair in its natural state, becoming the first model possibly ever to walk that famed runway with natural hair. 
"People loved it and were very proud and happy for me," Borges, who's from Angola, recently told Teen Vogue. "It was the sexiest moment of my life. I was very excited to share [my hair] with the world."
And now, according to one source close to the fashion show, which will be airing on Dec. 5, we could be seeing more natural hair come Monday night than ever before. 
In an interview with Refinery29, Sarah Potempa, the show's lead hairstylist, said that this year will be all about letting the models rock their natural hair, with less styling and extensions and products overall. 
"We want to embrace everyone's natural beauty," Potempa said. "We're giving a carefree approach to the length and type of curl. Some women with shorter hair, maybe a lob, will walk with that hair. We're not gonna add extensions to make it super long. And if someone has short hair on the side or a tight haircut, we're not gonna put a wig on or put extensions on their head. We're gonna embrace it." 
So maybe, just maybe, Maria Borges, who's walking again this year and is still rocking her natural hair on Instagram just days before the show, won't be the only woman going natural. 
Chances for this are rather high too since Victoria's Secret has managed to book more than one model who is known for wearing their natural hair regularly. 
In addition to Borges, there's Herieth Paul, who's already been a vocal advocate for diversity in fashion, and Jourdana Phillips, who often just dyes her natural hair blonde and adds in gel. 
There are of course many other black models walking this year, including Zuri Tibby, Jasmine Tookes (who will be wearing the $3 million fantasy bra), Cindy Bruna and Joan Smalls. So, if we were to bet on it, it's safe to say that Borges won't be alone up there with her natural hair. 
Although Victoria's Secret has faced massive criticism for excluding plus-size women, or really any woman who's above a size 6, from its runway, it appears to have made a concerted effort this year when it comes to racial diversity, casting a range of models of color and bringing in young, up-and-coming models of color like Tibby and Dilone.
As with anything Victoria's Secret does though, we've just got to wait and see.