'The Flash' season 3, episode 9 will reunite Barry Allen and Jay Garrick in winter finale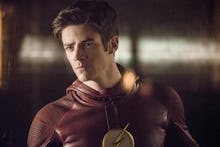 The highly-anticipated crossover between Greg Berlanti's four DC television series — Supergirl, The Flash, Arrow and Legends of Tomorrow — kicked into high gear Tuesday night when Supergirl traveled to Earth-1 to help Barry Allen and his friends out of a significant alien jam. Given the nature of the ambitious crossover, season three, episode eight of The Flash still managed to address some of the season's significant ongoing plot lines in the first part of "Invasion!" (Monday night's Supergirl, "Medusa" only acted as a prelude.) 
Chief among these ongoing story arcs is the further ramifications of Barry's decision to travel back in time and prevent Reverse Flash from killing his mother — resulting in the Flashpoint timeline. Cisco Ramon has yet to forgive Barry for the latter's part in the death of his brother, causing tension between the two throughout the episode. Further, we finally learn the details of future Barry's message to Rip Hunter in Legends of Tomorrow: that is, Barry's decision to alter the timeline may have far reaching consequences into the future. 
Once the team discovers the mess Barry has caused, including erasing John Diggle's baby daughter from existence, their trust in the speedster falters, leading them to go face the Dominators without Oliver and the Scarlet Speedster. Of course, this leads to a Civil War-like battle, as their minds are taken hostage by the invading alien race. 
The "Invasion!" crossover will continue on Arrow Wednesday, Nov. 30, before concluding on Thursday, Dec. 1, on Legends of Tomorrow. The Flash will refocus on the threat posed to Central City by Savitar and his acolyte, Alchemy, during the winter finale on Tuesday, Dec. 6. 
If the few episodes in which Savitar has appeared have taught us anything, it is that the self-proclaimed "God of Motion" is too powerful for Barry to defeat alone. As such, season three, episode nine of The Flash, titled "The Present," will see Barry travel to Earth-3 to seek help from his father's doppelganger, and fellow speedster, Jay Garrick. 
The actor who plays Garrick, John Wesley Shipp, previously played Barry's father, Henry Allen, and also starred as the Flash in the eponymous series from the '90s. Shipp recently spoke with ComicBook.com, where the actor discussed playing a version of The Flash 25 years after he first donned the suit. 
"I figured Jay is my version of Barry, 25 years later, essentially. So I went back and I watched a couple of episodes of the 1990/91 version to kind of remind myself what I did," Shipp explains.
The actor goes on to state that "[Jay] is much more reminiscent of my Barry Allen from 25 years ago than my Henry Allen. I went back and I was amazed how much attitude my Barry Allen had in some situations. I went back and I picked up that thread and I brought it forward 25 years, and tried to weave it in. I think that's fun for the audience, too -- that they will see elements of my Barry Allen in my Jay Garrick."
While we have seen Shipp as Garrick as recently as this season, it appears that next week's episode will be the first time we get to see him get in on the action.
The official synopsis (via ComicBook.com) from The CW reads:
BARRY SEEKS HELP FROM JAY GARRICK — With Alchemy and Savitar still looming threats, Barry (Grant Gustin) is unable to focus on the Christmas holiday, and especially his relationship with Iris (Candice Patton). Determined to stop Savitar, Barry goes to Earth-3 to get advice from Jay Garrick (guest star John Wesley Shipp). Wally (Keiynan Lonsdale) wants to help Barry fight Savitar and reveals that he's been training with H.R. (Tom Cavanagh), which doesn't go over well with Barry. As Cisco (Carlos Valdes) faces his first Christmas without his brother Dante (guest star Nicholas Gonzalez), old wounds are reopened.
Not addressed in the synopsis is another guest star who will be appearing: Mark Hamill. The iconic Star Wars actor has appeared as James Jesse, aka The Trickster, in every season of The Flash. Recently released promotional photos suggest that Hamill will be playing a version of The Trickster from Earth-3, one who looks like an amalgam of James Jesse and another iconic villain: The Joker (who is frequently voiced by Hamill). 
What is particularly exciting about Hamill's appearance is that he will be facing off against John Wesley Shipp's Flash for the first time in 25 years. Hamill previously portrayed James Jesse in the 1990-1991 The Flash television series, before returning as the character in a season one episode of The CW show.
While it will be exciting to see Hamill back on The Flash, the real danger is that posed by Savitar and Alchemy. Alchemy has proven to have a mysterious connection to those that had powers in the Flashpoint timeline, while Savitar looks unstoppable. Only time will tell if two Flashes are enough to stop Savitar, but it seems unlikely that they will make any significant headway with so many episodes remaining in the season. 
You can check out the promo video for The Flash's winter finale below: