Serena Williams calls for female athletes to "dream big" in open letter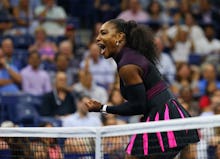 Over the course of her career, Serena Williams has spent 309 weeks occupying the No. 1 spot in women's tennis and has tied for the most women's Grand Slam titles. She's been to the Olympics four times and enjoys the biggest paycheck of any female athlete in the world. 
None of these accolades, though, makes her immune to sexism. 
Williams has repeatedly fought for the title of "greatest athlete in the world," striving the overcome the bias that would have some only allow her "greatest female athlete in the world."
In an open letter published in Porter magazine's "Incredible Women of 2016" issue and shared on the Women's Tennis Association website, Williams called for women to join her in the fight for equality, on and off the court.
"Too often women are not supported enough or are discouraged from choosing their path," she wrote. "I hope we can change that."
Williams said she was fortunate enough to have a family who supported her ambitions. But that didn't mean society at large was keen on seeing a strong and unapologetic woman of color on the court. 
As New Yorker contributor Ian Crouch wrote in September 2014, "Part of this is owing to the dueling -isms of American prejudice, sexism and racism, which manifest every time viewers, mostly men, are moved to remark on Williams' body in a way that reveals what might most charitably be called discomfort."
Williams said she triumphed because she didn't allow herself to be defeated by those who doubted her ability to succeed.
"What others marked as flaws or disadvantages about myself — my race, my gender — I embraced as fuel for my success," Williams wrote. "I never let anything or anyone define me or my potential. I controlled my future."
But while Williams was able to overcome the barriers standing in the way of her dreams, she said it's time to stop accepting those barriers as a fact of life for women. In her letter she doubled down on her criticism of those who constantly gender her success, reminding her all the way that she's female. 
"We should always be judged by our achievements, not by our gender," she said, pointing out that no one reminds men's tennis champion Roger Federer he's one of the greatest "male" athletes. Men's accomplishments, Williams noted, are never presented with such stipulations.
Battling inequality can be exhausting and often fruitless, but Williams said she hopes women will encourage each other to persist. 
"It is my hope that my story, and yours, will inspire all young women out there to push for greatness and follow their dreams with steadfast resilience," wrote Williams. "We must continue to dream big, and in doing so, we empower the next generation of women to be just as bold in their pursuits."