When is 'The Winds of Winter' being released? George R.R. Martin gives new update on book.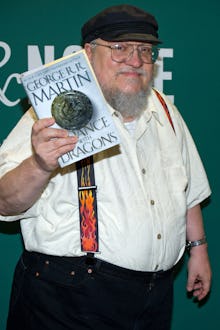 George R.R. Martin, like many of us, probably wants to leave the awfulness of 2016 behind, and what better way than to become a reclusive artist? The author of A Song of Ice and Fire novels — or as some people may know them, the source material for HBO's Game of Thrones — has been mum about the progress of his sixth book in the series, The Winds of Winter. Fortunately, there's newfound hope we could get the book in 2017. 
In a new post on Martin's personal blog, the author notes that he has a final book signing in Mexico this week before he's done with scheduled appearances for 2016. Then, he says he's going to be hard at work on finishing the penultimate novel in the series. 
"My appearance schedule for 2017 is very limited, and will remain so until [Winds of Winter] is completed," Martin writes. "So if you want to meet me or get a book signed, this will be the last chance for a good few months." 
For longtime fans of the books, this is a welcome — albeit somewhat familiar — sight. It wasn't long ago that Martin had a self-imposed 2015 deadline to finish Winds of Winter, before citing that he doesn't like deadlines (do any of us, really?) and would now be working on the book without a set date. In the meantime, however, he has continued to tease new chapters from the book, enough times that one would assume he's getting close to the finish line. The Game of Thrones fan site Winter Is Coming shared a chart that predicts a 2017 release for Winds of Winter before the final book, A Dream of Spring, is published in 2023. 
At this point, the Game of Thrones show has surpassed its source material, so hopefully Martin no longer has to worry about playing catch-up. Fans will take the book whenever it's ready — though yes, a 2017 release would be much appreciated. But no pressure (please hurry up).