'Pokémon Sun and Moon' QR codes: How to get Duosion, Luxio and more with Island Scanner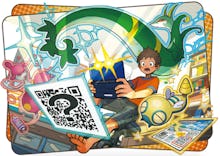 Scanning QR codes is one of the best new features in Pokémon Sun and Moon. We've already covered the basics of tracking Pokémon with this handy new tool, but there's a whole second layer of scanning that deservers a closer look: the Island Scanner.
Using a special daily bonus, you can uncover rare creatures that normally won't show up in Pokémon Sun and Moon. Here's everything you need to know about the Island Scanner to get the most out of the game's QR codes.
Pokémon Sun and Moon: What is the Island Scanner and how does it work?
Every QR code you scan in Pokémon Sun and Moon earns you 10 points, with a limit of 10 scans per day. Once you reach your daily limit and rack up 100 points, you can use Island Scanner. Simply press the R button to scan whichever island you're on and reveal the location of one Pokémon not featured in the new game's Pokédex.
Before you use Island Scan there are a few things to consider. You only have an hour to catch the Pokémon, so make sure you have access to the entire island. The type of Pokémon that will appear also depends on your location in the game and the day of the week.
Pokémon Sun and Moon: How to get Duosion, Luxio, Deino and other rare Pokémon with Island Scanner
PokéCommunity rounded up all the different Pokémon you can find with Island Scanner. Here's the full list:
There are some pretty cool Pokémon on that list. You can even use Island Scanner to track down the starters from Pokémon Gold and Silver (Totodile, Chikorita and Cyndaquil).
More Pokémon Sun and Moon guides, tips and tricks from Mic:
If you're serious about 'Pokémon Sun and Moon', you'll want to read up so you can be the very best. Check out our guides for picking the right starter, 'Pokémon Sun and Moon' cheats, using a damage calculator, how to catch the new legendary Pokémon, how to get Munchlax, how to customize your character, how to trade, how  to find all the evolution stones, how to use QR codes, all the Team Skull passwords, which Pokémon to catch early on and picking between 'Pokémon Sun and Pokémon Moon'.