Utah lawyers are pledging to defend Muslim refugees for free in Donald Trump's America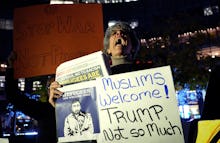 Muslim refugees in Utah will not be defenseless under Donald Trump's presidency.
The Refugee Justice League of Utah, a newly established coalition of lawyers, announced on Tuesday they will be representing and providing legal services for free to any of the 40,000 Muslim refugees in the Beehive State, the Associated Press reported.
The group, founded by civil rights leader James McConkie, is made up of 50 lawyers from diverse religious backgrounds pledging to represent and defend Muslim refugees from harassment and intimidation, and will pursue legal action against any laws calling for a refugee database. The group will also be working with local imams to collect complaints and will also offer a complaint form on their website.
"[Muslim refugees] have friends in the state of Utah who are willing to help them live peacefully in their new homes and communities," McConkie said.
The announcement comes on the heels of Trump's controversial cabinet appointments, many of whom have infamous histories of white nationalist views and anti-Muslim discrimination. Trump, who will assume office on Jan. 20, has called for a temporary ban on Muslims entering the United States and is reportedly working with Kansas Secretary of State Kris Kobach to implement a Muslim registry database. 
Utah Gov. Gary Herbert expressed concern and condemned any proposals to implement a Muslim registry. Utah's Attorney General Sean Reyes also came out with a strong statement opposing a Muslim registry and likened the proposal to the internment of Japanese-Americans under President Franklin Delano Roosevelt's administration.
In Utah, the Muslim community has reportedly seen several incidents of anti-Muslim harassment, intimidation and bullying since Trump's presidential win on Nov. 9.
Noor ul-Hassan, a prominent Muslim community leader, told AP of an incident where a Muslim girl was bullied in school for her headscarf and another of a Muslim woman accosted and verbally abused while walking home. 
The gesture shouldn't serve as a surprise in Utah, which is home to a large percentage of Mormons. Attorney and Refugee Justice League of Utah co-founder Brad Parker told AP that the Mormon community is sympathetic to refugees since the state of Utah was founded by early Mormon believers fleeing violent persecution in Illinois.
"With rare exception, those who seek refuge here make the fabric of our state stronger and better," Parker told AP.
The Refugee Justice League of Utah has not yet responded to Mic's request for comment.