Pizzagate: How fake news led to very real violence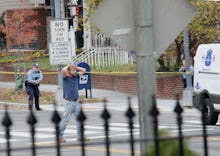 A North Carolina man was arrested Sunday after walking into a Washington, D.C., pizzeria, Comet Ping Pong, with an assault rifle. He fired at least one shot, authorities said. Edgar Maddison Welch, 28, told police he went to the restaurant to "self-investigate" a fake news theory that the restaurant was operating a Hillary Clinton-backed child sex ring.
The whole thing started on 4Chan
The New York Times traced the origins of pizzagate back to 4Chan, the unregulated online forum, which was then posted to Reddit. On Nov. 4, Reddit user DumbScribblyUnctious posted "full references and citations" of the pizzagate conspiracy theory. The thread, which began in the /r/The_Donald subreddit, attracted thousands of subscribers and has since been banned by Reddit.
Then things went full 'Da Vinci Code'
The thread alleges that Comet Ping Pong owner James Alefantis has predatory impulses. The thread also claims a sign on the restaurant and on the menu represents a secret code for pedophiles, and points to an email from Alefantis to Clinton presidential campaign chair John Podesta as proof of Alefantis' ties to the former Democratic candidate. Alefantis initially reached out to Podesta to invite him to a fundraiser for President Barack Obama, hosted by Comet Ping Pong:
John,
Podesta copied Jennifer Palmieri, former communications director and assistant to the president, who responded, "Good Lord. Who is this guy?" Podesta responds in a new email, not in the chain, that simply says:
Brock's boyfriend. Owns Comet.
The Brock in question is David Brock, founder of Media Matters for America and former right-wing journalist/provocateur who later became an advocate for Hillary Clinton. In 2008, at the time the emails were sent, Alefantis and Brock were partners. Snopes debunked the conspiracy in a lengthy, dizzying post, but supporters of pizzagate remained unmoved.
Comet Ping Pong, and adjacent businesses, faced a slew of harassment prior to the attack
The Yelp page for Comet Ping Pong had such a surge in news-related reviews that Yelp flagged it and is monitoring the page for "content related to media reports." Meanwhile, nearly half of Comet Ping Pong's Facebook reviews are 1-star, many with accusations of child abuse.
Other businesses around Comet Ping Pong have also faced harassment as a result of pizzagate. Matt Carr, the owner of the Little Red Fox market, told the Washington Post that his business had to stop answering calls from blocked numbers. 
"One person said he wanted to line us up in front of a firing squad," Carr said.
Bradley Graham, co-owner of Politics and Prose, the bookstore Podesta spoke at in 2008, told the Post that he was planning to meet with police "because we had feared that what, up to now, had been simply despicable menacing verbal attacks online or on the phone might escalate."
In an interview with the Washington City Paper, Alefantis called the pizzagate-supporters "conspiracy theorist, white nationalists made up largely of racists, homophobic individuals who loosely tie together theories and do not attempt to find the truth, and when they do find truth that dispels their theories, they ignore it."
After the attack, Alefantis took to his restaurant's Facebook page to condemn the proliferation of fake news:
Let me state unequivocally: These stories are completely and entirely false, and there is no basis in fact to any of them. What happened today demonstrates that promoting false and reckless conspiracy theories comes with consequences. I hope that those involved in fanning these flames will take a moment to contemplate what happened here today, and stop promoting these falsehoods right away.