Mitt Romney's net worth compared to Donald Trump's: How do they stack up?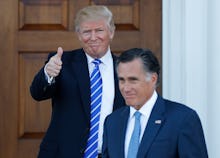 President-elect Donald Trump and Republican Mitt Romney have had a rocky relationship, to say the least. 
The former governor of Massachusetts said that if Republicans choose Trump as their nominee, "the prospects for a safe and prosperous future are greatly diminished," in a speech given at the Hinckley Institute of Politics at the University of Utah in March. 
Yet, the two were spotted getting dinner together and Republican National Committee Chairman Reince Priebus in New York City on Tuesday evening, and Romney is rumored to be Trump's pick for secretary of state.
Trump reportedly has more money than Romney
Trump's net worth was $3.7 billion as of late September, according to Forbes. 
Although Trump has gotten a pretty hefty paycheck from his time on The Apprentice, Forbes reported that Trump's worth has decreased by $800 million in the last year. A feeble market and plummeting value of Trump's real estate is to blame for this, according to Forbes. 
The Washington Post reported Romney's campaign estimates his net worth to be $250 million. 
The Washington Post credited Romney's fortune to Bain Capital, one of the top private-equity firms, which Romney founded in 1984. Bain had investments in companies such as Staples, Dunkin' Donuts and Domino's Pizza. Romney ran the firm for about 15 years, according to the Post, before departing in 1999. 
Correction: Nov. 30, 2016