Here's your first look at Kylie Jenner's debut merchandise line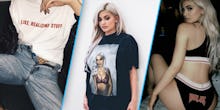 Like the Bermuda Triangle, the whereabouts of Amelia Earhart and the identity of the Zodiac Killer, Kylie Jenner's shop is shrouded in mystery. 
What will be sold? What will it look like? Why does it exist? 
We've gotten a few clues here and there: The pop-up shop will be in Canoga Park, California, it will likely sell Jenner's own Kylie Cosmetics along with possible other merch. There will be an online store, which is opening in 10 days. We know this because there's a countdown on its website. Really. 
And over the past few days, we've gotten more details on the store and, additionally, Jenner's new, expansive merchandise line, which has every single Jenner-related item you could ever want. 
In an Instagram video posted on Tuesday, she showed off all the merch, so here are some highlights: 
This Kylie Jenner Lip Kit hat 
It also comes in blue jean and as a black trucker hat, natch. 
This metal-inspired Kylie sweatshirt 
Heavy-metal-inspired font is having its moment right now, from Kanye West's Yeezus tour merch to Justin Bieber's Purpose tour merch, so of course Jenner had to get in on the fun as well. 
This Kylie Jenner boob long-sleeve T-shirt 
Cuz why not? We're always here for women appreciating and loving their bodies. 
This Kylie underwear 
These are nothing if not necessary. 
This important T-shirt 
Sometimes you just have to tell people who they are. 
This equally if not more important T-shirt 
Early this year, Jenner released an iconic video in which she literally saw the future. Of 2016, she said: "Like, I feel like every year has a new energy, and I feel like this year is really about, like, the year of just realizing stuff. And everyone around me, we're all just, like, realizing things."  
And you know what? She may have been right. So now here's a T-shirt to celebrate that. 
This phone case 
So everyone around you knows what you hold most dear. 
This thong 
Think of this as a family heirloom to frame and pass onto your children, who will then surely pass it on to their children. 
You can view Jenner's video of the merch line below, and we'll be sure to keep you as updated as possible on this breaking, important and potentially life-changing news.