'Doctor Who' 2016 Christmas episode synopsis, sneak peek video released online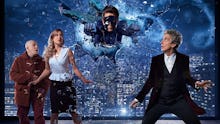 With the Rockefeller Center Christmas tree lighting and the Radio City Rockettes Christmas Spectacular, there's nothing like Noël in New York. Even the creators of Doctor Who agree. In fact, the 2016 Christmas episode takes place in the Big Apple — and that's not all we know. Now that the BBC has released the episode synopsis and poster, we're privy to several other facts. 
[Editor's note: Spoilers for the 2016 Doctor Who Christmas special below.]
First up, we know that the 60-minute episode is titled "The Return of Doctor Mysterio," and will involve Peter Capaldi as the 12th Doctor teaming up with a masked superhero in New York:
"With brain-swapping aliens poised to attack, the Doctor and Nardole link up with an investigative reporter and a mysterious figure known only as The Ghost. Can the Doctor save Manhattan? And what will be revealed when we see behind the mask?"
We also know that the episode was written by showrunner Steven Moffat, who announced earlier this year that this Doctor Who series will be his last. (Chris Chibnall will be taking command as the new head writer and executive producer.) Moffat told the BBC that "I've always loved superheroes and this Christmas Doctor Who dives into that world!" 
In addition to Capaldi, fans can expect to see Justin Chatwick of Orphan Black starring as The Ghost and Charity Wakefield of Ghost Hall as journalist Lucy Fletcher. Other cast members include Adetomiwa Edun, Aleksandar Jovanovic and Logan Hoffman. 
Director Ed Bazalgette brought his vision to this year's Christmas episode. He has directed two previous Doctor Who episodes, "The Girl Who Died" and "The Woman Who Lived."
To generate even more excitement over the new release, the BBC One site even has an Advent — er, Adventure — calendar so fans can count down the days until the Christmas special airs. On Dec. 1, the first day on the calendar, you can download the episode's wallpaper for your computer. Since the rest of the days are locked, you'll have to visit the site each day to see what little surprise is in store.
Here is the BBC's sneak peek of the Christmas special in full:
You can watch "The Return of Doctor Mysterio" on Christmas night at 9 p.m. Eastern on BBC America. You also can watch the episode in more than 400 U.S. theaters on Dec. 27 and 29.