How 7-year-old Bana al-Abed uses Twitter to shed light on the plight of Syrian children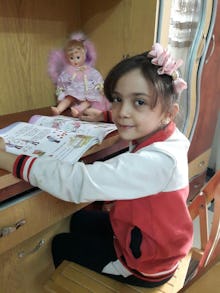 For many, the ongoing conflict in Syria is a distant problem faced by people thousands of miles away. But via Twitter, 7-year-old Bana al-Abed has shared her personal story within this horrifying tragedy.
Since September, al-Abed and her mother Fatemah have been tweeting to the world about the terror and fear they face living with the daily bombings in east Aleppo, garnering 186,000 followers in the process. Though they posted a farewell message on Sunday in the face of heavy bombing, the family is still alive, though, they noted on Twitter, their home has now been destroyed.
Through their messages, Fatemah and Bana offer devastating views of Aleppo and ask the world outside Syria to see what's going on and help raise awareness for their plight. "You see we can die anytime," one tweet reads, accompanied by a devastating video of a thick cloud of smoke caused by a bomb. "This bomb is so near. I sincerely appeal to the world to save us now."
In more recent tweets, Fatemah has noted that the two are now receiving death threats and has put out a plea to the world to help them and others remaining in eastern Aleppo leave the city unharmed.
"Sharing our story"
The Twitter account began as a way to raise awareness for their situation, Fatemah said in an October interview with NBC News. "Bana kept asking me to share our story so the world can understand what is happening to us," Fatemah, who does not give her surname for security reasons, said. "I thought of Twitter as a means of getting our message out, especially if we tweet in the English language, so that the voice of the children of Aleppo can be heard."
In an interview with the BBC, Fatemah credited university courses in journalism and politics with helping her and Bana get their message out. Bana, she said, has been learning English since the age of four. Though Bana can no longer go to her school, which has been bombed, the 7-year-old said she one day hopes to become an English teacher herself.
Their lives have been completely upended by the devastation in Aleppo, with food supplies running low and the electricity having been cut off. (Fatemah's tweets, NBC reported, have been possible thanks to a solar panel that can charge her phone.) But Bana still attempts to enjoy the pleasures of childhood as much as she can: There are tweets showing her drawing and supporting Manchester United, while a pinned tweet at the top of their feed reads, "I'm reading to forget the war."
When asked why the family didn't leave Aleppo in the first place, Fatemah told the Guardian that the city was "her world," and initially thought the war would only last one or two years. "You can't leave your own skin," Fatemah said in the interview. "This where our parents lived, it's our country, our home, our breath."
One of many
Of course, while Bana may be one of the more visible children affected by the Syrian war, she is but one of many. UNICEF reports that in eastern Aleppo alone, more than 100,000 children are trapped under siege, and at least 69 children have died this year as a result of school bombings. According to Save the Children, more than 2 million Syrian children are now out of school — more than the number of school-aged children in New York City, Los Angeles and Dallas combined — and a total of 7.5 million Syrian children have been affected by the war. By putting a relatable face on this widespread tragedy, Bana helps to show her followers the human cost of a war that goes far beyond their family's plight.
"The children lost their sense of childhood," Fatemah told NBC News. "They forgot what it means to play and go around and visit parks. It is now like a dream for them to go out for the day." 
Speaking to the Guardian, Bana offered a simple plea: "We are children. We love life. We want the world to hear us."