"Humanitarian catastrophe" in Mosul, Iraq, as 650,000 people lose access to water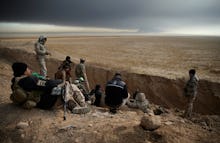 In embattled Mosul, Iraq, water is currently in short supply for 650,000 people. After a key pipeline was hit during the ongoing fighting between Islamic State group fighters and the country's U.S.-backed, pro-government forces, one local official told Reuters that more than 40% of the city's residents have had their access to water cut off.
"We are facing a humanitarian catastrophe," Hussam al-Abar, who is part of Mosul's Nineveh provincial council, said of the 1.5 million people currently trapped inside Mosul. 
According to al-Abar, the pipeline snakes through a disputed territory in the city too dangerous for repair crews to access. In addition to the lack of access to water in Mosul, he added that "basic services such as... electricity, health, food are non-existent."
On Wednesday, the United Nations echoed the warning of a grave humanitarian crisis unfolding in the eastern parts of the city.
"The situation in eastern Mosul city close to the front lines remains fraught with danger for civilians," the U.N. humanitarian coordinator's office said, according to Reuters. "Mortar and gunfire continue to claim lives." 
"The limited supplies of food and water are running out, amid concerning reports of food insecurity emerging from the city," the office also said.
Six weeks after the Iraqi army began its clash against the Islamic State's largest stronghold in Iraq, resource scarcity isn't the only immediate threat facing the city's residents. On Wednesday, Deputy U.N. High Commissioner for Human Rights Kate Gilmore said Islamic State militants shot and killed 27 civilians in Mosul's Muhandiseen Park last week.
As winter approaches, and with one of the city's three main water pipelines currently defunct, UNICEF's Iraq representative, Peter Hawkins, told Reuters that residents are facing a dire set of obstacles to their survival.
More than 74,000 civilians are estimated to have fled Mosul so far, with the United Nations has formulated a worst-case contingency plan for a potential one million people displaced from the city as food and resource shortages worsen.
"Children and their families in Mosul are facing a horrific situation," Hawkins said, according to Reuters. "Not only are they in danger of getting killed or injured in the cross-fire, now potentially more than half a million people do not have safe water to drink."