Twitter account of Bana al-Abed, 7-year old Syrian girl, has been deleted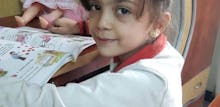 The Twitter account of Bana al-Abed, a 7-year old Syrian girl who, along with her mother, used Twitter to narrate their family's experiences in war-torn Aleppo, Syria, has been deleted. Bana's mother, Fatemah, sent the account's last tweet on Sunday, leaving her more than 100,000 followers concerned for the family's fate: "We are sure the army is capturing us now. We will see each other another day dear world. Bye. — Fatemah #Aleppo"
Since September, Bana's Twitter has been used to humanize and shed light on the plight of Syrian children on the run and dying from airstrikes on Aleppo. In late November, the account tweeted this farewell:
Last message - under heavy bombardments now, can't be alive anymore. When we die, keep talking for 200,000 still inside. BYE.- Fatemah
The now-deleted account often posted harrowing, heartbreaking pleas to the world to help those remaining in eastern Aleppo and to notice the victims of Syrian President Bashar al-Assad's siege.
Fatemah noted in an interview with NBC that she started the account because "Bana kept asking me to share our story so the world can understand what is happening to us."
"I thought of Twitter as a means of getting our message out, especially if we tweet in the English language, so that the voice of the children of Aleppo can be heard," she said.
While Twitter users across the globe have expressed sympathy and concern for Bana's family — including actress Alyssa Milano and author J.K. Rowling — the account has been criticized by some as a PR scam started by rebel forces in hopes of garnering sympathy for their cause.
Save the Children has said that more than 7 million children have been affected by the war. UNICEF released a statement in November, titled "Stop bombing schools and hospitals" noting that at least 69 children have been killed in school attacks in Syria and that more than 100,000 children in eastern Aleppo are "trapped under siege and heavy bombardment with dwindling access to food and medicine."
An image of 5-year-old Omran Daqneesh, who was pulled from rubble following a bombing in Aleppo earlier in 2016, went viral and prompted international concern — and criticism of that concern — for the families and children under attack in Aleppo.