People are asking if President Obama will pardon Hillary Clinton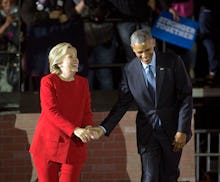 On Nov. 13, 60 Minutes reporter Lesley Stahl asked President-elect Donald Trump if he was going to name a special prosecutor to investigate Hillary Clinton, as he promised to do during the second presidential debate in October. "I'm going to think about it. ... I don't want to hurt [the Clintons]," Trump told Stahl.
Days later, Trump backpedaled in a sit-down interview with the New York Times, saying that the Clintons had "suffered greatly" and that the thought of prosecuting her was "just not something I feel very strongly about." 
But in the days since, Twitter users and other media outlets have started to wonder if President Barack Obama must pardon former Secretary of State Hillary Clinton for any federal crimes she may have committed. In the Times' opinion page's "Room for Debate," law professors Stephen B. Presser and Brian C. Kalt expressed conflicting views. Presser, of Northwestern University, said Obama should pardon his former secretary of state:
There are two other powerful reasons for sparing a now fractious American people the protracted agony of a criminal proceeding of this nature. One is that FBI Director James Comey has already determined that the server issue did not meet the tests of criminal prosecution, and the other is that a jury, which is likely to include persons sympathetic to Hillary Clinton, would not be likely to convict in any event.
But Kalt, of Michigan State University, argued that the President should not pardon Clinton because of the precedent it could set: 
Lame-duck pardons are legally valid, but politically illegitimate. When we approve expansive power in the service of causes we love, we enable the use of that power for causes we detest. ... Pardoning [Hillary] Clinton would normalize the practice and dull the (already weak) incentive for future presidents to exercise self-restraint.
Several Twitter users also weighed in on a would-be presidential pardon:
The Hill reported that Rev. Jesse Jackson asked President Obama to pardon Clinton preemptively — prior to any possible conviction should she have committed any crime. "It would be a monumental, moral and political mistake to pursue the prosecution of Hillary Clinton," Rev. Jackson said during a speech in Ann Arbor, Michigan, on Nov. 17. 
And there may be reasons for such a request. Some — mostly from the right — are wondering if Trump should reconsider his position on prosecuting Clinton after she decided to join Jill Stein's petition to request vote recounts in Wisconsin, Michigan and Pennsylvania. 
Trump has called the recount efforts a "scam" on his Twitter account: "The Green Party scam to fill up their coffers by asking the impossible recounts is now being joined by the badly defeated & demoralized Dems."
On Nov. 9, Politico reported that the White House was not taking a "potential Clinton pardon off the table."